Seven men arrested over Amish hair-cutting attacks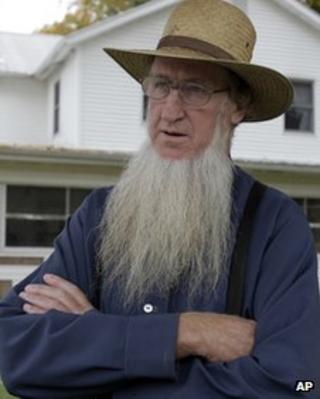 Seven men have been charged with hate-crime in the US state of Ohio following a number of hair-cutting attacks in the Amish community.
Amish men and women have had their beards and hair cut in a spate of assaults that have been blamed on a breakaway group in the community.
Group leader Samuel Mullet, 66, and three of his sons are among those detained, prosecutors said.
Authorities held a news conference to explain the charges.
Jefferson County Sheriff Fred Abdalla told journalists that Amish communities had been terrified by the attacks.
"You've got Amish all over the state of Ohio and Pennsylvania and Indiana that are concerned. We've received hundreds and hundreds of calls from people living in fear," Mr Abdalla said.
"They are buying Mace, some are sitting with shotguns, getting locks on their doors because of Sam Mullet."
The men were asleep in their homes in eastern Ohio when police arrived before dawn on Wednesday. Mr Abdalla said that the men initially refused to leave their rooms but were eventually arrested without incident.
'Chicken coop punishments'
The suspects are: Samuel Mullet, Johnny Mullet, Daniel Mullet, Levi Miller, Eli Miller and Emanuel Schrock, all from Bergholz; and Lester Mullet, of Hammondsville, according to an affidavit from the Department of Justice.
They are accused of carrying out "religiously motivated physical assaults" and causing injury by use of a dangerous weapon.
The criminal complaint charges them with "wilfully caused bodily injury... or attempting to do so by use of a dangerous weapon, because of the actual or perceived religion of that person".
It is alleged that they "forcibly restrained multiple Amish men and cut off their beards and head hair with scissors and battery-powered clippers", according to the Department of Justice.
The affidavit alleges that the men took photographs of their victims as evidence of the hair-cutting.
The incidents are viewed as particularly offensive in the conservative Amish community, where women do not cut their hair and men grow beards once they marry.
In the most recent attack this month, a man in his 70s was set upon by his own son, who wrestled his father to the floor and cut the hair on his head and beard.
The affidavit says the feud has been simmering since 2005 when Samuel Mullet excommunicated about eight families who had moved away from Bergholz because of disagreements over his religious leadership.
Community elders later overturned Mr Mullet's decision.
It is alleged that Mr Mullet had imposed "extreme physical punishments" on those in the community who defied him.
These are said to have included making them sleep in a chicken coop on his property for days at a time.
One of the seven accused, Levi Miller, was himself once kept in the chicken coop for 12 days, according to the affidavit.
'Acts of sexual intimacy'
It also says that Samuel Mullet had been taking married women from the Bergholz clan into his home so that he could "cleanse them of the devil with acts of sexual intimacy".
In one attack this month, it is alleged that Emanuel Schrock invited his father - referred to as Victim 4 in the affidavit - to visit him at his home.
Mr Schrock sent three letters by post to his father inviting him to come to his home, promising he would be safe, according to prosecutors.
It is alleged that Mr Schrock and others then pounced on Victim 4, cutting his hair and beard, while Victim 4's distraught wife was restrained by another woman.
According to the affidavit, Victim 4 reminded Mr Schrock of his written assurances that no harm would come to them, to which the accused is said to have replied: "I guess I lied."
In an interview with the Associated Press in October, Samuel Mullet denied ordering the attacks, but said he had not prevented his sons and others from carrying them out.
He added that the aim of the assaults was to make the Amish community feel ashamed for the way they had treated him and the rest of his group.
He was quoted as saying: "You have your laws on the road and the town - if somebody doesn't obey them, you punish the people. But I'm not allowed to punish the church people?
"I just let them run over me? If every family would do just as they pleased what kind of church would we have?"
The Amish, a tiny Christian community also known as the Plain People, generally shun modern conveniences such as electricity, televisions and cars.
It is estimated that around 61,000 Amish live in Ohio, mainly in rural communities to the south and east of Cleveland - second only to the Amish in Pennsylvania.