US Black Friday: Your comments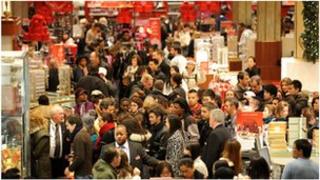 Hordes of bargain-hunters have been stampeding shopping centres across the US as the nation's holiday shopping season began in earnest.
The day after Thanksgiving in the US is known as Black Friday because it is when many retailers move out of the red and into the black.
BBC News website readers have been telling us about their bargains, here is a selection of their comments.
Your comments
Me and a group of six friends went to wait at a Gamestop at about 11:15pm EST, 45 minutes before the store opened. When were there the line was already about 100 feet long. By the time the store opened, the line extended about another 100-150 feet behind us. Even after it opened, there was still another 45 minute wait to get in. But altogether our group bought hundred of dollars of video game items such as a 3DS, a few games, and some gamer cards for various online games.  Jake Fenzl, Hilliard, Ohio
Here in Texas, the shops were busy when I ventured out this morning, but as with most shopping experiences in the states, everything was so well organised that the queues were manageable. There were plenty of members of staff around, so it was a pleasant experience. I only wish I'd gone earlier, as half the things I wanted were already sold out! Some customers looked like they had bought all their Christmas shopping in one go. Crystal Bridge, Sugar Land, Texas
I drove five hours through horrible weather to visit my family for Thanksgiving. We had to eat early because my mom was due at work for the midnight opening of a store. I'm spending Black Friday playing with my children and waiting for my mom to wake up after a long night at work. I have no intention of shopping this weekend. I want to enjoy my time with family and friends rather than deal with enraged drivers trying to find parking spots and buying "sale" items that were marked up and then discounted to appear like a bargain.  Barbara MacDonald, DeWitt, New York
I'm staying home, enjoying a great, warm, sunny day. I will not get close to any mall, or shop today. Twenty-eight hours in a queue or pepper spray? Not for me. They need to get their brains fixed. Andrew Tarnowka, Washington DC
Neither my wife nor I will be participating in the "Black Friday" madness. Our children are grown and we already have enough toys of our own. Honestly, I don't understand the attraction of standing in line for hours and elbowing through an unruly crowd - only to find that the "limited number" of advertised "bargains" have already been sold. It strikes me as a fishing scene - with retailers the anglers and customers the fish. RI Clark, St Louis, Missouri
I've worked in retail for eight years, however, this holiday was my first time as a cashier for Black Friday with Target. I did not dare to look at the long line of people outside the store as I walked-in to begin my shift, since I was hesitant about working that day from hearing about all the mayhem that occurs. Prior to opening, the cashiers and supervisors positioned themselves into a line that was the length of store, near the entrance. We counted down the last few minutes until midnight and I couldn't help but feel as though we were on the front lines, heading into a unique battle for retail. However, despite the large amount of nervousness and preparation, my overall experience was phenomenal. It was very organized, customers were allowed through the doors in waves, and staff were scheduled to accommodate the crowds. There were many people working behind-the-scenes to ensure that everything went smoothly. My experience has made me re-evaluate the whole experience of Black Friday, although no amount of savings could tempt me into actually becoming a Black Friday shopper! Julia Compton, Phoenix, Arizona
I am over in Florida on vacation, and went to experience the Black Friday madness! In all honestly, it wasn't as bad as I thought. I arrived at 9pm EST at an outlet on International Drive and it was quite calm, mainly as most Americans didn't even know the stores opened that early, or were still at home celebrating Thanksgiving with their families. I stayed for around three hours and got some good bargains, but nothing really different from when I have shopped here previously. However, when I was leaving and saw the queues on the roads, I couldn't believe it! This is no exaggeration but cars were in gridlock for about two miles, with further queuing for another two miles! There were hundreds of people walking to the shops as well! I was glad I got out of there when I did! Hearing stories on the news about fights and pepper spray being used is crazy, especially at a Walmart shop! Rodney, from London currently in Orlando, Florida
No my wife and I are not going shopping this whole weekend. People have lost their minds. We are thinking about boycotting Christmas shopping this year and celebrating the true meaning of Christmas. Consumerism is not what Christmas is about and neither is going into debt. A lot of those people going out and spending are going to put it on a credit card and have to pay for Christmas until next Christmas or longer. Dave Walker, Ohio
I plan to actively avoid any shopping at all until at least the middle of January! During the holiday season people become absolutely mad, kicking and gouging in a hurry to throw their money away on things they really do not need, but are unable to resist - a so-called "bargain." Manners are thrown out the window, credit is stretched past the breaking point, and inevitably at the end of it all there is buyer remorse. I purchase what I need only when I can afford to pay cash for it - and pay no heed to holidays or other silly inducements to break my budget. In years past I used to enjoy watching the lemmings in their headlong rush over the edge of solvency, but now it just depresses me. I'll stay home with a good book, thank you. Richard Waugh, Frederiksted, US Virgin Islands
As a small business store owner on Mercer Street for 20 years, I have not watched another slow start in sales such as this one. It's all a domino effect. The uncertainty of bonuses plays a major factor. However, I have seen some late starts in the past and I know it will all work out at the end. Encou, Soho, New York
I am avoiding the Black Friday madness. The thing most people don't realize is that most retailers are going to offer the same or similar deals until the 20th of December. Also, online shopping has the same deals. Why fight the crowds, or risk some nutter pepper spraying me during a bout of "competitive shopping." Pete Rearden, Fort Worth, Texas