Florida A&M students expelled over 'hazing' death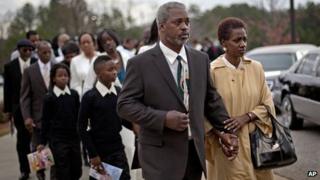 A Florida university has expelled four students for their alleged role in the death of a member of a famous marching band last month.
The death of Robert Champion, 26, a drum major, is thought to have been linked to hazing.
The director of the historically black Marching 100 band has been fired and its performances suspended.
Florida Governor Rick Scott has ordered a review of anti-hazing measures at all 11 universities in the state system.
Florida A&M University has launched one of four investigations into Champion's death.
Hazing involves subjecting members of a group or fraternity to abuse or humiliation, often as part of an initiation.
It is not clear why Champion would have been targeted because a drum major is usually a marching band's most respected member.
Call disconnected
Julian White, who had directed the Marching 100 since 1998, said he had done everything possible to stop hazing.
Champion was found unresponsive in a team bus in Orlando, Florida, on 19 November after a college football game.
In an emergency call, an unidentified person said Champion had stopped breathing.
The caller said the star band member had vomited and was cold, but that his eyes were open.
An emergency dispatcher told the caller to clear the vomit from Champion's nose and mouth, but the call disconnected. He died soon afterwards in hospital.
Coach company owner Ray Land said his driver had been helping students unload their instruments and was not aware of any misconduct on the bus before Champion collapsed.
Hazing has a long history in Florida A&M's marching band and many others around the US.
The Marching 100 was started in 1892 and performs at Super Bowls, the Grammys and presidential inaugurations.
This would not be the first time Florida A&M has experienced serious hazing incidents.
In 2001, a band member suffered kidney damage after he was struck with a paddle. In 1998, a student was taken to hospital after he was repeatedly beaten.