US consumer protection appointee blocked by Republicans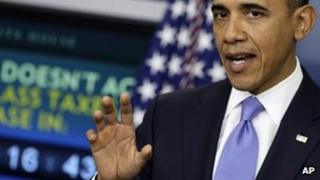 Senate Republicans have blocked the appointment of Richard Cordray to head a new US consumer protection agency.
A majority of Republicans have pledged to block any appointee to the Consumer Financial Protection Bureau (CFPB) until the administration agrees to decrease the agency's powers.
The CFPB has existed since July but cannot fully act without a director.
The agency was created as part of the Dodd-Frank financial reform law, bitterly opposed by many Republicans.
Mr Obama has not ruled out appointing Mr Cordray, a former Ohio attorney general, on a temporary basis when Congress is in recess.
He has also signalled that he will veto any attempt to change the structure of the CFPB or defund the agency.
'Fair play'
Republicans said they had no qualms on Mr Cordray's qualifications, but voted against the measure that would have brought his nomination to a vote.
With one Republican voting in favour, the measure failed to reach 60 "aye" votes necessary to move forward.
Mr Obama said he would not give up on the appointment.
"We have a Congress right now, Republicans in Congress right now, who seem to have entirely forgotten how we got into this mess," Mr Obama said on Thursday.
"And part of the reason was because we did not empower our regulators to make sure that they were ensuring fair play."
Senate Republicans are asking that the CFPB's directorship should be replaced with a bipartisan board of directors and that the agency should be subject to the congressional appropriations process.
"This has nothing to do with Mr Cordray," said Senator Susan Collins, a Maine Republican. "It has everything to do with accountability for how money is spent in government."
Administration officials dispute that the agency has no accountability.
Deputy Treasury Secretary Neal Wolin told reporters at the White House that the CFPB must consult with other bank regulators before issuing rules, and can also have its rules overturned by the Financial Stability Oversight Council, a Treasury department board largely made up of heads of other financial agencies.
Mr Wolin said the new agency, which falls under the supervision of the Federal Reserve, follows other federal bank regulators in not being subject to congressional appropriation.
"The reason for that is we want to make sure that our bank regulators are free of political influence."