Penn State: Jerry Sandusky avoids accusers in court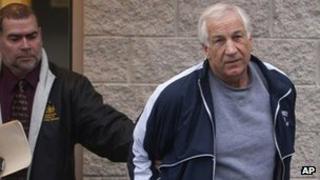 A former US football coach at Penn State University has briefly appeared in court but waived his right to a hearing on child abuse charges.
Jerry Sandusky, 63, will now face trial on charges of molesting 10 boys while assistant coach with the famous team.
Eleven witnesses, including accusers, were ready to give evidence in Tuesday's preliminary hearing.
Mr Sandusky, who is free on $250,000 (£160,000) bail, has admitted showering with young boys but denies abuse.
He has told interviewers that he showered and wrestled with boys who he treated like part of his family.
Defence lawyers for Mr Sandusky said a plea bargain was not being considered.
Cover-up claims
Crowds of media and onlookers gathered outside the court in Bellefonte, Pennsylvania, shortly after dawn on Tuesday in anticipation of Mr Sandusky's appearance.
The preliminary hearing was expected to see a district judge decide whether prosecutors have amassed enough evidence to bring the case to trial.
But Mr Sandusky quickly waived his right to hearing after taking his seat at the front of the courtroom.
Joseph Amendola, Mr Sandusky's lawyer, argued that having the allegations repeated "would have left us with the worst of all worlds".
According to Mr Amendola, defence lawyers did not have "meaningful discussions" with prosecutors about waiving the hearing until Monday evening.
Prosecutors said after the hearing that Mr Sandusky would remain on bail, wearing an electronic tag and under strict conditions banning him from contact with minors or accusers.
He will return to court at Pennsylvania's Court of Common Pleas on 11 January 2012.
His arrest in November prompted a crisis at the university, which boasts one of the proudest college football followings in the nation.
The team's head coach, veteran Joe Paterno, was fired from his position after accusations of a cover-up began to emerge.
Mr Paterno led Penn State to more wins than any other top division college football coach in US history.
The university president, Graham Spanier, was also sacked amid the unfolding scandal in November.