US 'Barefoot Bandit' Colton Harris-Moore jailed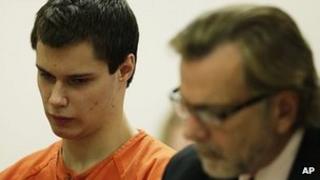 A US man known as the "Barefoot Bandit" has been sentenced to more than seven years in a state prison after pleading guilty to a string of charges.
Colton Harris-Moore, 20, made global headlines during a two-year crime spree in which he evaded police in stolen cars, boats and planes.
Footprints left at some of the crime scenes earned him his nickname.
He told the court in Washington state that his childhood was one he wouldn't wish on his "darkest enemies".
He stood with his wrists shackled and made no reaction as the sentence was delivered in the packed courtroom in Coupeville.
Judge Vickie Churchill described Harris-Moore's early life with an alcoholic mother and a series of her convict boyfriends as a "mind-numbing absence of hope".
"This case is a tragedy in many ways, but it's a triumph of the human spirit in other ways," she said.
"I could have been reading about the history of a mass murderer. I could have been reading about a drug abusive, alcoholic young man. That is the triumph of Colton Harris-Moore: He has survived."
Harris-Moore's crime spree began in 2008 after the then teenager absconded from a halfway house in Seattle where he had been placed following previous run-ins with the police.
Movie deal
Detectives chalked up some 65 cases against him across Washington state, Oregon, Idaho, Indiana, Nebraska, and parts of Canada that included car theft, bank robbery, assaulting police and the repeated burglary of empty holiday homes from which he took food, electronic items and credit cards.
Despite not having a pilot's licence, Harris-Moore stole at least three planes, flying them across the US and eventually to the Bahamas in July 2010, where he crash-landed near a mangrove swamp and was arrested in a hail of bullets.
He has since signed a $1.3m (£835,000) movie deal, enabling him to tell his story and also to repay his victims.
At his appearance on Friday he had faced a maximum sentence of just under 10 years for his dozens of crimes.
"Colton's very pleased - he was expecting the worst," said his lawyer, John Henry Browne.
Prosecutor Greg Banks said he was glad the case was over.
"I can see why people are sympathetic to him," Mr Banks said. "It's still a significant amount of time for someone who has never been in the adult system."
In his statement, Harris-Moore said he took responsibility for his crimes and that he learned too late of the fear he was instilling in his victims.
He said he had studied manuals and online videos to teach himself to fly a plane. He said he would use his time in prison to study for college, with the hope of achieving a degree in aeronautical engineering.