Gary Johnson switches to Libertarian Party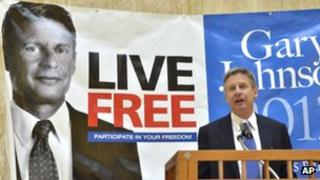 Longshot Republican candidate Gary Johnson has declared he will run for president with the Libertarian Party.
In a press conference, the former New Mexico governor said voters were fed up with the two-party system.
He appeared in just two TV debates and complained in a recent interview the Republican party "hung me out to dry".
A recent poll suggested he could take votes from the eventual Republican nominee as a third-party candidate, helping Barack Obama win a second term.
That same survey found another Republican candidate, Ron Paul, could draw an even larger share of the vote from the party's eventual candidate if he ran as an independent.
Frozen out and frustrated
Texas Congressman Paul, who has refused publicly to countenance the idea of a third-party bid, shares some of Mr Johnson's libertarian-leaning views.
Mr Johnson supports liberal causes such as legalising marijuana and abortion rights.
But he also backs abolishing the Department of Education and drastically reducing the scope of the Internal Revenue Service, including scrapping the corporate income tax.
Mr Johnson told supporters on Wednesday in Santa Fe, New Mexico, that he believes his political stance "resonates with most Americans".
As two-term Republican governor of New Mexico, he set records for vetoing legislation, left the south-western state with a budget surplus and fired over 1,000 state employees. He also continued to pay dues to the Libertarian Party.
Mr Johnson's frustration with being frozen out of televised Republican debates came to a head in mid-November.
After being barred from several forums based on requirements set by each host, he complained to the federal election watchdog.
Mr Johnson's performance in national opinion polls has been generally low, and in some cases his name was not on the list of potential Republican candidates.
He will still have to beat the six current registered Libertarian candidates for that party's presidential nomination, although he has the highest profile out of them all.