US to pay $17.8m over jet crash into San Diego home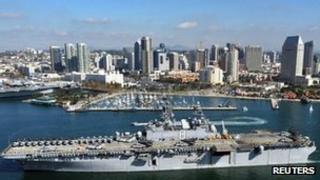 A US family will receive millions of dollars in damages after four of them were killed when a military jet crashed into their home.
They originally demanded $56m (£36.2m) in compensation, but have been awarded $17.8m after a non-jury trial.
The aircraft was flying over a residential area in San Diego, California, towards an inland base when it crashed in December 2008.
The military blamed the accident on mechanical failure and human error.
Don Yoon lost his wife, two baby daughters and mother-in-law as a result of the accident, which also destroyed his home.
The settlement includes compensation for Mr Yoon as well as the siblings of his 36-year-old wife, Youngmi, to cover loss of life, wages and property, the San Diego Union-Tribune newspaper reports.
The US government had acknowledged that it was at fault for the accident before the trial began.
The pilot ejected before the crash and told investigators he screamed in horror as he watched it smash into two homes.