Iowa: Michele Bachmann denies campaign in disarray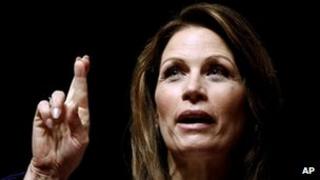 Republican presidential candidate Michele Bachmann has vowed to press ahead with her campaign, a day after a high-profile defection.
Her Iowa chairman, Kent Sorenson, endorsed Texas Congressman Ron Paul on Wednesday night, hours after appearing alongside Mrs Bachmann.
She says Mr Sorenson was offered "a lot of money" by the Paul campaign, an allegation denied by both.
The candidates are making their final pitch to voters ahead of Iowa's caucus.
The Hawkeye state's 3 January gathering marks the start of the six-month period during which each US state will hold primary elections or caucuses to pick a Republican candidate, who will be officially nominated at the party convention in August.
In the wake of Mr Sorenson's departure, Mrs Bachmann's Iowa political director, Wes Enos, said on Thursday he would also be leaving the Bachmann campaign.
This development follows comments Mr Enos made asserting that Mr Sorenson's defection had nothing to do with money.
"I am no longer serving in an official capacity with the campaign," Mr Enos told the Associated Press news agency, adding he does not plan on working with another candidate.
Arrests
In other developments in Iowa on Thursday:
The second poll in as many days showed former Pennsylvania Senator Rick Santorum vaulting into third place in Iowa on 16% behind Mitt Romney on 23% and Mr Paul on 22%
A super-political action committee backing Mr Romney kept up its pressure on Newt Gingrich, releasing a new attack ad lambasting the former House Speaker's "mistakes"
Five Occupy the Caucus protesters were arrested in front of Ron Paul's campaign headquarters while demonstrating over his proposal to dismantle the Environmental Protection Agency
Separately, 12 Occupy protesters were arrested outside the Democratic Party headquarters in Des Moines, including a 14-year-old girl, who was released at the scene and handed over to her father
Mrs Bachmann, meanwhile, insisted her campaign was "strong", and that it had received many calls of support following Mr Sorenson's exit.
The Minnesota congresswoman alleges he told her during a telephone call this week about a financial inducement from her rival's organisation.
The Ron Paul campaign and Mr Sorenson, an Iowa state senator, again denied that claim.
Mr Sorenson told CNN he wanted to back a candidate who could stop former Massachusetts Governor Romney from winning Iowa.
"It's unfortunate they're resorting to these type of tactics," he said of the Bachmann campaign. "But the fact of the matter is she wasn't going to win Iowa."
The eventual Republican candidate will challenge Barack Obama for the White House in November 2012.
Many voters are concerned by the pace of economic recovery from the recession that started during the end of the presidency of George W Bush and ended in 2009.