Iowa caucuses: What excites voters in the Hawkeye State?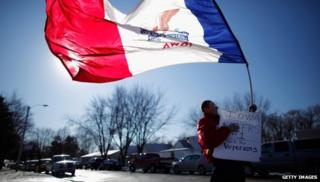 Politicians are trying to woo the voters of Iowa, but are they speaking the right language? A trip to three small towns reveals the issues Iowans really care about.
A downtown theatre in Des Moines, Iowa, is currently home to Caucus! The Musical. The show features four fictional but familiar presidential contenders, desperate for the "average" Iowan's vote.
It ends with the Iowan characters apathetic and largely disgusted with the politicians and their pandering.
After spending a week travelling around Iowa, I thought it summed up the mood of the state perfectly.
In my travels, I didn't find a single person who expressed genuine excitement for any candidate.
"This caucus is different," says David Swenson, an economist at Iowa State University, who studies the caucuses.
Candidates have spent less time in the state, aired fewer advertisements, and are less focused on issues important to Iowans.
"Historically the candidates have brought a goodie bag of ideas that they thought would sell well in Iowa," he says.
So what are the issues that get Iowans excited? I decided to travel through the countryside to find out.
Storm Lake: Immigration Reform
With a population of 10,000, the city of Storm Lake nestles in the corn fields of north-western Iowa.
The main employers are hog- and turkey-processing plants, both of which rely on immigrant labour, and many of the workers are undocumented.
Iowa itself is 91% white. In Storm Lake, the school district is only 22% white. The majority of the students are Latinos, though the school also includes Asian children and children from Africa.
"We are the conquistadors of this little town in the middle of nowhere," says Sara Huddleston, who was among the first Latinos to arrive here from Mexico in 1989.
Ms Huddleston says when she arrived, there were no ethnic grocery stores or even Mexican restaurants.
Today there are plenty to choose from. "Everybody of different classes, different colours, different ages, they all go to Juanita's," she says, referring to her favourite local Mexican restaurant.
As Iowa's first elected Latino city council member, Ms Huddleston is emblematic of the demographic changes in Storm Lake.
The changes have been positive, residents say.
"The infusion of immigrants has helped Storm Lake's economy," says local police chief Mark Prosser.
"Do we have some issues? Yes. But do we have growing school districts? Yes. Do we have an expanding medical centre? Yes. Are we building new businesses? Yes. All because of our immigrant growth here."
But not everyone thinks immigration has been beneficial for this area. The congressman who represents Storm Lake, Republican Steve King, is one of the most outspoken opponents of illegal immigration in Washington.
He's even designed a wall to run along the Mexican border with wire on top, which he suggested electrifying with a mild current. "We do that with livestock all the time," he said.
Mr King is popular in Iowa and Storm Lake. He's been elected to Congress five times.
Mr Swenson says the disconnect between Mr King's popularity and his stance on immigration are something of a paradox.
"In rural agriculture, and in food and food-processing plants, all major businesses in western Iowa, many of the people are conservative," he says.
"Yet they know darn well their businesses thrive because they have access to this cheap labour."
Newton: Job training and growth
In central Iowa, just past Des Moines, lies the city of Newton, population 15,000.
Newton was the quintessential one-company town: Fred Maytag began building his washing-machines here in 1893. For more than a century the city and the company prospered together.
Then the company outsourced operations to Mexico and shifted jobs to the southern states. By 2007, Maytag had closed its doors in Iowa for good.
"At one point in its heyday, Newton was the washing-machine capital of the world, so that was a lot of the town's identity," says Darrell Sarmento, of the Newton Area Chamber of Commerce. "It was a demoralising blow when it closed down here."
But look at the old Maytag plant now, and you don't see a rusting shell. Instead, you find factory buildings taken over by DMACC, the Des Moines Area Community College.
Inside are students, some in their 40s and 50s who once worked for Maytag, learning new trades like welding, nursing and cooking.
"Our goal is to diversify our community," says Frank Liebel, executive director of the Newton Development Corporation. "Let's try go out and get 10 companies that employ 200 people instead of one company that employs 3,000," he says.
"We've created almost 1,200 jobs since Maytag closed," he adds proudly.
Fort Dodge: Foreign investment
A couple of hours north up the I-35 interstate is the city of Fort Dodge, population 25,000.
Like Newton, Fort Dodge is also trying to reinvent itself.
The city has bled jobs to cheaper foreign manufacturing locations for decades. The latest blow came in 2009 when Electrolux announced it was shutting its appliance factory and moving to Juarez, Mexico.
"We estimated 700 lost their jobs in that Electrolux closing. We had generational employment there, it was devastating," says Fort Dodge Mayor Matt Bemrich. "But instead of crying about it, we're aggressively pursuing ways of replacing those jobs."
For a city ravaged by foreign competition, Fort Dodge looked to reinvent itself by turning to foreign competition for jobs.
The strategy seems to be paying off: in October a South Korean company, Cheil Jedang agreed to invest $324m (£208m) in a new plant in Fort Dodge making additives for livestock feed.
It's expected to create around 200 local jobs.
Cheil Jedang executive John Kang says the company chose Fort Dodge primarily because Iowa has cheap corn, with a facility nearby to process it.
But Fort Dodge also worked hard to sell itself to the South Koreans as a place their workers would want to live.
"We have a lot of golf courses," says Mayor Bemrich.
Additional reporting by Rob Hugh-Jones.
Listen to more on this story, at PRI's The World, a co-production of the BBC World Service, Public Radio International, and WGBH in Boston.