New York leaders condemn Queens mosque attack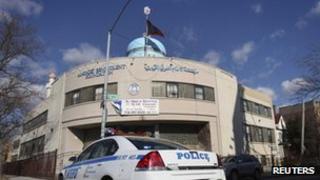 New York leaders have condemned a series of firebomb attacks, including one on a mosque, which police say they are investigating as a hate crime.
The Imam Al-Khoei Foundation in the borough of Queens suffered damage to its front door, but no-one was hurt.
In a statement, Mayor Michael Bloomberg said the bombings "stand in stark contrast to the New York City of today that we've built together".
He said the city's hate crimes unit was "moving at full steam to investigate".
There were no reported injuries and little damage as a result of the bombings.
According to the mosque's assistant imam, Maan al-Sahlani, about 80 worshippers were there when the firebomb was set off.
"We were very surprised," Mr al-Sahlani said. "This has never happened here before."
Cuomo outrage
Shortly before the firebomb hit the Al-Khoei Foundation, a corner shop known as a bodega was struck with a similar device, consisting of a still-undetermined inflammable liquid in a glass Starbucks cafe bottle, according to a police spokesman.
A source close to the investigation told AFP that the employees at the bodega were Muslim.
Just over two hours later, two bottles were also thrown at a house police said was used for Hindu worship services. Those bottles did not explode.
New York state Governor Andrew Cuomo also expressed outrage at the incident.
"Attacks such as this have no place in our open and inclusive society and we must do all we can to ensure New York remains a safe and tolerant place for all," Mr Cuomo said.
Mr Bloomberg also said that the hate crimes unit and the city's 103rd Precinct detective squad were also looking for "connections to incidents outside New York City".