Obama defies Congress over consumer agency appointment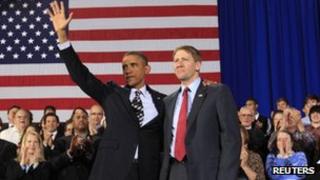 President Barack Obama has moved to appoint his choice to head a new US consumer protection agency despite a lack of Congressional support.
Republicans sharply criticised the so-called "recess appointment", accusing Mr Obama of overstepping his power.
They had blocked Richard Cordray's December appointment to the Consumer Financial Protection Bureau (CFPB).
Some Republicans pledged to oppose any Obama appointment until the president agreed to cut the agency's powers.
The CFPB was created as part of the Dodd-Frank bill financial reform bill a piece of legislation widely reviled by Republicans.
The agency is designed to oversee mortgage companies, payday lenders and debt collectors, among others. Without a director, the bureau can not fully act.
Announcing Mr Cordray's appointment, Mr Obama also unveiling his picks for the National Labor Relations Board.
Circumvention?
Mr Obama stood with Mr Cordray by his side as he announced the appointment before a cheering crowd in Ohio, an important election-year state where Mr Cordray once was attorney general.
Mr Obama blamed Congress for preventing the agency from doing its work.
"Every day that we waited was another day when millions of Americans are left unprotected," Mr Obama said.
Republicans immediately attacked the move, with Senate leader Mitch McConnell saying Mr Obama "arrogantly circumvented the American people".
"It's clear the president would rather trample our system of separation of powers than work with Republicans to move the country forward," said House Speaker John Boehner.
"This action goes beyond the president's authority, and I expect the courts will find the appointment to be illegitimate."
No legal challenge has yet been made.
Recess dispute
Presidents are allowed to make appointments when Congress is in recess, but Congressional leaders have held pro-forma sessions each day, usually lasting only moments, to prevent the legislative body from officially being out of session.
The White House has decided the pro-forma sessions would not impact Mr Obama's authority to make the appointment.
However, congressional Democrats used pro-forma sessions to block the appointees of President George W Bush - who made 171 such recess appointments before the strategy was put in place.
Before Wednesday, Mr Obama had made 28 recess appointments.
Republicans have based their block of an appointee not on Mr Cordray's credentials but on the reach of the agency itself, arguing it is too unaccountable.
Specifically Senate Republicans are asking that the CFPB's directorship should be replaced with a bipartisan board of directors and that the agency should be subject to the congressional appropriations process.