New Hampshire conservatives unsure about Romney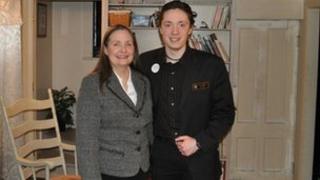 Many conservative Republicans remain unsold on Mitt Romney's candidacy for the Republican presidential nomination. In New Hampshire, a mother-and-son team of Republican politicians say the front-runner cannot count on their support.
"No one is supporting Romney," New Hampshire State Representative Laura Jones says about her cohort of Tea Party-inspired conservative activists.
"They believe he lacks integrity."
She and her son Kyle, who manages a Burger King fast-food restaurant when not serving in New Hampshire's part-time legislature, are strident supporters of Texas Congressman Ron Paul.
At a table in their well-kept home in a working-class neighbourhood of Rochester, New Hampshire, the pair of freshmen legislators help explain why across the country as many as 70% of Republicans voters have not signed on to Mr Romney's campaign.
Fight for a generation
Mr Romney maintains an overwhelming advantage in campaign resources and organisation, and kicked off the campaign season with victory in the Iowa caucuses.
But many conservatives across the country are resisting him, looking instead to candidates like Mr Paul, former Pennsylvania Senator Rick Santorum, former House Speaker Newt Gingrich, and others.
Laura and Kyle Jones also illustrate the risk that some of the most dissatisfied conservatives may sit out the November general election against Democratic President Barack Obama - or vote for a third-party candidate - if Mr Romney wins the nomination.
"You can't really trust a guy who flip-flops like that," Kyle Jones says of Mr Romney, who has faced criticism for changing his policy positions on a range of issues, including abortion and healthcare.
"What's to say he won't flip-flop when he's president?" Mr Jones add. "You're going to see a lot of people staying home on Tuesday in November because he does not appeal to us the way someone like Ron Paul does."
And Mrs Jones says she is "offended" by a universal healthcare programme Mr Romney signed into law when he was governor of Massachusetts, on which President Obama later modelled his landmark 2010 national healthcare overhaul.
Kyle and Laura Jones are one of the very few mother-son teams of legislators in US history, and at 20, Mr Jones says he is the youngest serving member of a state legislature in the country.
The pair were elected in 2010 as the anti-tax Tea Party movement gripped the US.
The Joneses surpassed a relatively low barrier to entry, as far as political office in the US is concerned. The New Hampshire House has 400 seats representing a population of 1.3 million. Mr Jones and Mrs Jones won election to a lawmaking body with 787 and 808 votes, respectively.
"I was tired of yelling at the television," Kyle Jones says just before he leaves an interview to change from a neat black jacket and slacks into a Burger King fast-food uniform.
"There's not many people fighting for my generation so we can have a future."
Mr Jones mock-glares at his mother and says: "Nothing against your generation, Mom, but you're selling us down the river."
The pair share a laugh. A wood-stove warms the home against the New Hampshire winter. His 18-year-old brother sits at a computer in the next room, and their 13-year-old sister listens in as the two family politicians talk politics.
'Bigger picture'
Mr Romney is expected to win New Hampshire's presidential primary election on Tuesday.
An aggregate of recent polls compiled by Real Clear Politics shows him leading with about 40% of the vote, and Mr Paul coming in second, with 21%.
Analysts say that if Mr Romney wins in South Carolina on 21 January and Florida on 31 January, he could well take the nomination.
"Mitt Romney is going to be the Republican nominee," says Corey Lewandowski, New Hampshire state director for Americans for Prosperity, an organising group prominent in the Tea Party movement.
"Is that the first choice of conservatives? Maybe not. But there is a bigger picture we have to look at. America cannot afford four more years of the Obama administration."
Mitt Romney is familiar to voters in New Hampshire. He keeps a vacation home in the state and was governor of neighbouring Massachusetts for four years.
"If you picked out the median New Hampshire Republican who's going to vote, the one in the middle of the ideological spectrum, she would look like Mitt Romney," says Dante Scala, a political scientist at the University of New Hampshire. "Moderate to ambivalent about social issues, but fiscally conservative."
But in New Hampshire, as across the rest of the country, there has been a vacuum on Mr Romney's right, Mr Scala says, with many conservative voters looking for an alternative.
"On the right wing of the New Hampshire Republican party, there have been people waiting for someone else," he says.
People like the Joneses are energetic, deeply motivated and active in politics, and determinately opposed to Mr Romney - so much so that Mrs Jones threatens to back a third-party candidate should Mr Romney win the Republican nomination.
Mrs Jones, who home-schools her 13-year-old daughter and cares for her 18-year-old autistic son when she is not active in politics, hopes Mr Paul will outlast other non-Romney candidates, narrow to a two-candidate race, and eventually prevail.
"The contrast will be so stark that it will be easy for people to make a decision," she says, "and they will see the integrity that Ron Paul has."