Canadian naval officer charged with spying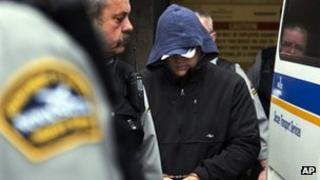 Canada's government has moved to reassure allies, following the arrest of a naval officer charged with handing over secrets to a foreign power.
Jeffrey Paul Delisle is accused of giving classified information to "a foreign entity" between July 2007 and Jan 2012.
The 40-year-old was arrested in Halifax, Nova Scotia, at the weekend.
Officials declined to comment on a report that said the country involved in the alleged espionage was Russia.
According to the Canadian Broadcasting Corporation, Mr Delisle worked for a unit that tracked vessels entering and exiting Canadian waters.
It reported that the unit had access to secret data from Nato countries.
Canadian Defence Minister Peter MacKay told a news conference in Ottawa: "Let me assure you our allies have full confidence in Canada."
Mr Delisle has been remanded in custody until his next court hearing on 25 January.
In 2006, Ottawa said it would deport a man it accused of being a Russian spy and who had lived in Canada under a false identity for more than 10 years.