United States profile - Leaders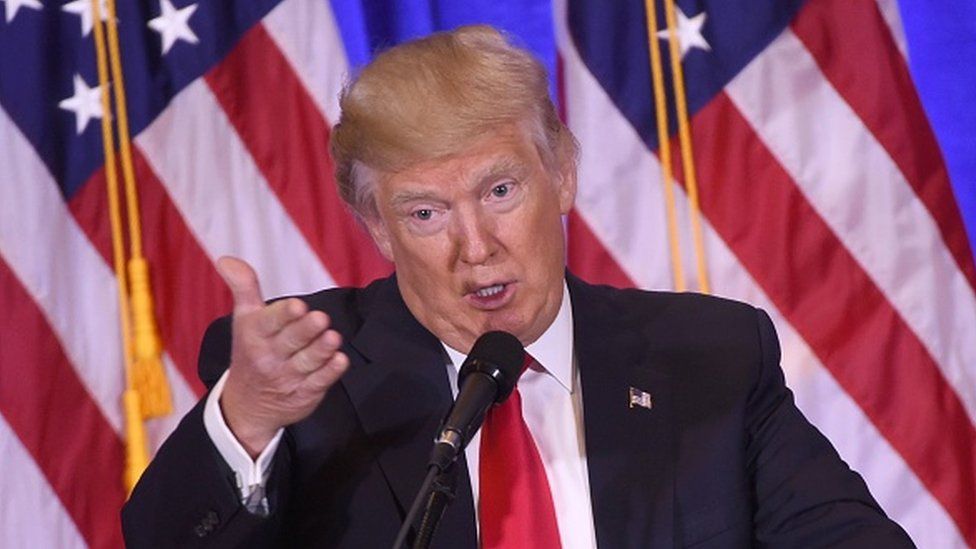 Republican candidate Donald Trump defeated the Democrat Hillary Clinton in the November 2016 presidential election, in one of the greatest upsets in recent US political history.
He confounded opinion polls and put an end to eight years of Democratic control of the White House. 
A billionaire businessman, reality TV star and political outsider, Mr Trump campaigned on a vow to "make America great again". He presented himself as an agent of change who would bring manufacturing jobs back to the US, tear up unfavourable trade deals, and curb illegal immigration. 
During a highly-acrimonious election campaign, Mr Trump drew accusations of racism and misogyny, and managed to alienate many senior members of his own party.
But, despite poll predictions that America would elect its first female president in Hillary Clinton, Mr Trump emerged victorious, claiming key electoral college swing states amid an enormous wave of support in particular among white working-class voters.
In 2017 Mr Trump moved fast to fulfil his election pledges, signing an executive order to pull the US out of the Trans-Pacific Partnership trade deal, and repeating his insistence that Mexico must pay for a proposed border wall.
Not everything has gone smoothly. He faces court rulings blocking attempts to restrict visas to people from certain Muslim majority countries and to block funding to "sanctuary" cities that shelter illegal immigrants.
He has also embroiled himself in a very public row after dismissing FBI Director James Comey, which his opponents see as an attempt to derail an inquiry into the president's links with Russia.
Mr Trump confirmed his reputation for unpredictability by intervening forcefully in the Middle East and elsewhere.
He bombed a Syrian airbase in response to Syrian government chemical attack on civilians, decided to arm Kurdish rebel fighters there, and destroyed an Islamic State cave network in Afghanistan.
President Trump also warned North Korea that it could face military retaliation if it continues nuclear tests.
His predecessor Barack Obama, a Democrat and America's first black president, was first elected in 2008 in the midst of the worst economic crisis since the Great Depression of the 1930s.
This dominated much of of his first term, during which he pursued an aggressive policy of economic stimulus, including bail-outs of major car makers.
Among his major achievements during his two terms in office were a major health care bill in 2010 and the killing of Al-Qaeda leader Osama Bin Laden the following year.
But in foreign policy his record was decidedly mixed. His attempt to "pivot" the US towards the Far East met with little enthusiasm from China, and the rapid souring of relations with Russia spilled over into the Middle East, where Moscow intervened in support of the government side in the Syrian civil war while the US appeared to looked on helplessly.
A more lasting legacy may be his negotiation of an international deal to halt Iran's nuclear programme, and the restoration of diplomatic ties with Cuba.