United States country profile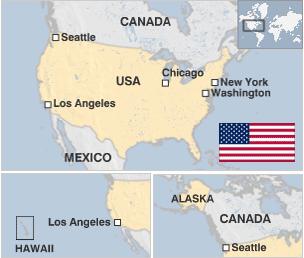 The USA is the world's foremost economic and military power, with global interests and an unmatched global reach.
America's gross domestic product accounts for close to a quarter of the world total, and its military budget is reckoned to be almost as much as the rest of the world's defence spending put together.
The country is also a major source of entertainment: American TV, Hollywood films, jazz, blues, rock and rap music are primary ingredients in global popular culture.
The United States originated in a revolution that separated it from the British Crown. The constitution, drafted in 1787, established a federal system with a division of powers that has remained little changed since its inception.
UNITED STATES OF AMERICA: FACTS
Capital: Washington DC
Area: 9,833,520 sq km
Population: 333.2 million
Language: English
Life expectancy: 75 years (men) 80 years (women)
Democrat candidate Joe Biden defeated Republican President Donald Trump to win the presidency in the 2020 election. A former vice-president with decades of experience in Congress, Mr Biden campaigned on a platform of promoting national unity after the divisive presidency of Mr Trump, a right-wing businessman, and re-engaging with international diplomacy.
The US has the most highly-developed mass media in the world. Its dramas, comedies, soaps, animations, music videos and films have a global audience and are staple fare for broadcasters worldwide.
Television is the most popular medium, although the amount of content consumed via live broadcast TV is falling as video-on-demand platforms flourish.
The US is the home of the internet, and access is unrestricted.
Some key dates in US history:
1565 - First permanent European settlement in North America - St Augustine, present-day Florida - founded by the Spanish.
1607 - Jamestown, Virginia, founded by English settlers, who begin growing tobacco.
1620 - Plymouth Colony, near Cape Cod, is founded by the Pilgrim Fathers, whose example is followed by other English Puritans in New England.
17th-18th Centuries - Hundreds of thousands of Africans brought over and sold into slavery to work on cotton and tobacco plantations.
1775 - American Revolution: George Washington leads colonist Continental Army to fight against British rule.
1783 - Britain accepts loss of colonies in the Treaty of Paris.
1787 - Founding Fathers draw up new constitution for United States of America.
1803 - France sells Louisiana territories to USA.
19th Century - Resistance by indigenous peoples crushed as immigration from Europe assumes mass proportions, with settlers moving westwards.
1846-48 - US acquires vast tracts of Mexican territory in wake of Mexican War including California and New Mexico.
1861-1865 - US Civil War: Federal forces defeat the Confederate pro-slavery states in the South. Slavery is abolished.
1898 - US gains Puerto Rico, Guam, the Philippines and Cuba following the Spanish-American war. US annexes Hawaii.
1920 - Women given the right to vote.
1929-33 - Some 13 million people become unemployed after the Wall Street stock market crash triggers what becomes known as the Great Depression.
1933 - President Franklin D Roosevelt launches "New Deal" recovery programme which includes major public works.
1941 - Japan attacks the US fleet at Pearl Harbour in Hawaii, precipitating the US entry into World War Two.
1945 - US drops two atomic bombs on Hiroshima and Nagasaki. Japan surrenders.
1947 - US enunciates policy of aid for nations it deems threatened by communism in what became known as the Truman Doctrine. Cold War with Soviet Union begins.
1950-54 - Senator Joseph McCarthy carries out a crusade against alleged communists in government and public life; the campaign and its methods become known as McCarthyism.
1954 - Racial segregation in schools becomes unconstitutional; start of campaign of civil disobedience to secure civil rights for Americans of African descent.
1961 - Bay of Pigs invasion: an unsuccessful attempt to invade Cuba by Cuban exiles, organised and financed by Washington.
1962 - US compels Soviet Union to withdraw nuclear weapons from Cuba in what has become known as the Cuban missile crisis.
1963 - President John F Kennedy assassinated; Lyndon Johnson becomes president.
1964 - US steps up its military intervention in Vietnam. Civil Rights Act signed into law; it aims to halt discrimination on grounds of race, colour, religion, nationality.
1968 - Black civil rights leader Martin Luther King assassinated.
1969 - US astronaut Neil Armstrong becomes the first person to walk on the Moon.
1973 - Vietnam ceasefire agreement signed.
1989 - US troops invade Panama, oust its government and arrest its leader, one-time Central Intelligence Agency informant General Manuel Noriega, on drug-trafficking charges.
1991 - US forces play dominant role in war against Iraq, triggered by Iraq's invasion of Kuwait and ending with the expulsion of Iraqi troops.
1995 - Oklahoma bomb by far-right activists kills more than 160 people.
1999 - US plays leading role in Nato bombing of Yugoslavia in response to Serb violence against ethnic Albanians in the province of Kosovo.
2001 - Co-ordinated suicide attacks on various high-profile targets by the al-Qaeda jihadist group, prompting the US to embark on a ''war on terror'' that includes the invasion of Afghanistan and Iraq.
2003 - Missile attacks on Baghdad mark the start of a US-led campaign to topple the Iraqi leader Saddam Hussein. US forces swiftly advance into central Baghdad.
2008 - Turmoil in the US and international financial markets as major Wall Street investment bank Lehman Brothers collapses and other big US financial players face growing troubles as a result of the "credit crunch".
Barack Obama is elected the first black president of the United States.
2016 - Reality TV host and property tycoon Donald Trump regains the presidency for the Republicans on a populist platform.
2021 - Joe Biden is inaugurated president amid unprecedented security, a week after Trump supporters stormed the Capitol in Washington DC.
Related Internet Links
The BBC is not responsible for the content of external sites.