Kennedy Hyannis Port home to become education centre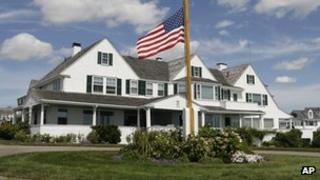 The Kennedy family's ocean-front home in Cape Cod is to be turned into a centre for learning about public life.
It was donated by the late Senator Edward Kennedy to an institute set up in his name to give people an "insight into the workings" of government.
The Edward M Kennedy Institute for the United States Senate said it fulfilled a promise he made to his mother Rose to use the house for charitable purposes.
The house in Hyannis Port was a focal point for Kennedy gatherings.
Film footage showed family members relaxing playing touch football on the lawns or at the nearby beach.
It was also where the family gathered in times of tragedy - after the assassination of President John F Kennedy in 1963 and the death of his son John F Kennedy Jnr in a plane crash in 1999 for instance.
Senator Edward Kennedy spent his final days at the Massachusetts house before dying of brain cancer in 2009.
His son, Ted Kennedy Jnr, said the house had been "my family's epicentre", where relatives "would retreat to connect with one another through heated political debates in the dining room and rousing games on the front lawn".
Another son, Patrick, said of his father there could be "no greater testimony to his legacy" than allowing the institute to turn his home into a place of learning about government and public life.
"My father had great passion for the United States Senate," Patrick, a former Rhode Island congressman, said. "It was his life for many years".
The house was bought by Joseph and Rose Fitzgerald Kennedy in 1928.
Adjacent properties are still owned by family members, who will still be able to access the beach and have some access to the main house itself, the Boston-based institute said.
A team of preservation experts, including presidential historian Michael Beschloss, are being brought in to guide the programming and operation of the home, the institute said in a statement.