Wikileaks suspect Bradley Manning to face court martial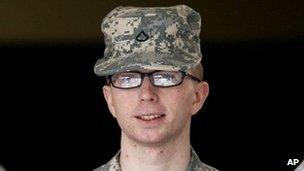 Alleged Wikileaks source Bradley Manning is to face a court martial, the US Army has confirmed.
Private Manning, 24, an intelligence analyst who served in Iraq, is alleged to have leaked US government cables to the whistle-blowing website.
He could face life in prison if convicted of leaking thousands of documents and "aiding the enemy".
Pte Manning appeared for a pre-trial hearing in December, following which a court martial was recommended.
He was arrested in May 2010 in connection with the leaks.
No date has been set for the court martial, the Army said in a statement confirming the decision.
Presiding officer Maj Gen Michael S. Linnington reviewed the evidence from December's hearing as well as recommendations from the chain of command before concluding that a court martial was justified.
The US Army will now select a military judge, who will choose a date for a pre-trial hearing, or arraignment, as well as a subsequent hearings and a trial.
Pte Manning is charged with aiding the enemy and transmitting defence information, among other charges.
If convicted he would face a maximum punishment of life in prison and a dishonourable discharge, the Army said.
During his preliminary hearing, known as an Article 32 hearing, the court heard that Pte Manning held a data card containing 500,000 classified battlefield reports, as well as contact details for Julian Assange - the founder and head of Wikileaks.
"This is possibly one of the more significant documents of our time, removing the fog of war and revealing the true nature of 21st Century asymmetric warfare. Have a good day," Pte Manning was alleged to have written in one text file.
Pte Manning's defence called only two witnesses during the hearing, to testify on his emotional state before and during being deployed to Iraq.
They argued Pte Manning was a troubled young man with gender identity issues, but his superiors failed to provide adequate counselling, take disciplinary action or revoke his security clearance.
Presiding officer Paul Almanza held two closed sessions while witnesses were testifying on the classified material.
The move outraged supporters of Pte Manning, who believed the session should have been open to the public, since the documents were already in the public domain.
Pte Manning is alleged to have been the source of a series of high-profile security breaches that saw Wikileaks rise to global fame.
After a video showing US troops firing on Iraqis from a helicopter came caches of documents from both the Iraq and Afghan wars, and a huge haul of classified state department cables.
The hearing, held at Fort Meade in Maryland, was the first time Pte Manning had been seen since his arrest.