George Esper: Fall of Saigon reporter dies at 79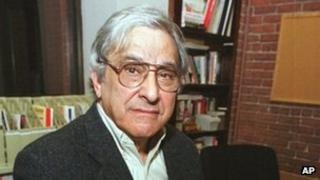 George Esper, who reported on the fall of Saigon during the last days of the Vietnam war, has died aged 79 after suffering multiple health problems.
An Associated Press reporter for most of his career, Esper refused to join the US evacuation of Saigon in 1975.
The news then ran on the front page of the New York Times.
Esper covered several other major stories for the news agency, including the Jonestown massacre in Guyana in 1978 and the 1991 Gulf War.
He returned to Vietnam in 1993, when he was chosen to open the Associated Press's first post-war Vietnam bureau in Hanoi.
'Little resistance'
Announcing his death, Esper's son described him as a "selfless person" dedicated to his work.
"He loved travelling the world and getting the story for the Associated Press,'' Thomas Esper said.
After years spent in war-torn Vietnam, Esper's 30 April 1975 story chronicled the first moments after Saigon fell to Viet Cong soldiers.
In the dispatch, he wrote how a former freelance employee walked in to the AP office accompanied by two North Vietnamese soldiers. Amid the tumult outside, Esper served them Coca-Cola and leftover cake and interviewed the soldiers.
"After smoking a cigarette, Tran Viet Ca, a 24-year-old private, told the Americans he had served seven years in the North Vietnamese Army," he wrote.
"Two days ago we attacked Bien Hoa," he said. "Today we drove down the highway past the United States Army base at Long Binh.
"Our forces were led by a brigade of tanks. There was a little resistance, but most Saigon soldiers had already run away. Then we drove into Saigon."
Esper retired from the Associated Press in 2000 and become a professor of journalism at his alma mater, West Virginia University.