Mexico drugs: How one DEA killing began a brutal war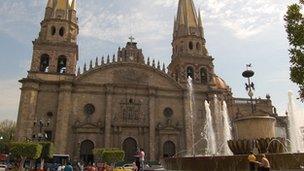 Twenty seven years ago, the kidnap, torture and murder of a US Drug Enforcement Administration agent by Mexican drug traffickers sparked one of the biggest manhunts the US government has ever launched in North America. It also offered an ominous warning of things to come.
The picturesque Mexican city of Guadalajara is bustling with life. By day, its busy plazas are filled with street vendors and shoeshine boys. At night, the mariachis line up to play for the tourists.
The country's drug violence feels very far from here and, most of the time, it is. But that was not always the case.
"In 1985, Guadalajara was the base of operations for most of the major narcotics traffickers in North America," says James Kuykendall, then-head of the Guadalajara office of the US Drug Enforcement Administration (DEA).
"Many of the major traffickers from other parts of Mexico, especially the state of Sinaloa, had migrated to Guadalajara both for the scenery and for the politics: if they didn't have full immunity, certainly no-one was messing with them down there."
Among the agents working out of the small office was a 37-year-old Mexican-born American, Enrique "Kiki" Camarena. The father of three was involved in some undercover work, posing as a potential buyer to narcotics traffickers. Camarena's former boss remembers that he was particularly adept at the role.
"He was not involved in deep undercover work as I would define it," Mr Kuykendall says from Texas, where he now lives and works.
"The undercover work which was done was mostly to find out who was doing what, what sort of drugs they were dealing in, what quantities...
"The other agents in the office were doing the same thing, but Kiki was just a little better at it. A little more motivated."
It was work which would eventually get him killed.
On 7 February 1985, Enrique Camarena was bundled into a car on the street outside the DEA office in Guadalajara while on his way to meet his wife for lunch.
He had barely a month left on his posting to Mexico before his transfer to San Diego. But he would never be seen alive again.
"I was certain something had happened," says Mr Kuykendall of the moment Camarena's wife called to say the agent was missing.
"We had been threatened by the major traffickers, and there was no way Kiki would go out and get lost without notifying one of us. We were all very close at that time."
What followed was a huge manhunt for both Camarena and a Mexican pilot used by the DEA, Alfredo Zavala Avelar, who had also disappeared the same day.
The Reagan administration put great pressure on the government of Mexico to find the missing men, with the US Customs Agency taking the unprecedented step of all but closing the border to traffic from Mexico.
With cross-border trade reduced to a trickle, bilateral relations at an all-time low and all the major US news agencies travelling to Guadalajara to cover the kidnapping, the DEA was in the eye of major diplomatic storm.
Unfortunately for Kiki Camarena, it was all to no avail.
Thirty days after he was taken, his body, along with that of the pilot, turned up in the Mexican state of Michoacan. They were dumped at the roadside and showed signs of torture.
What had been a search for the two men became a search for their killers, as the DEA launched its biggest-ever homicide investigation: Operacion Leyenda.
Three men were identified as having ordered the kidnap and murder: the heads of the then all-powerful Guadalajara cartel.
Their names are forever synonymous with drug trafficking in Mexico: Ernesto "Don Neto" Fonseca, Miguel Angel Felix Gallardo and Rafael Caro Quintero.
Fonseca was arrested by April of that year, as was Quintero, who had fled to Costa Rica following an alleged tip-off from a senior figure in the Mexican police. He was finally apprehended in a wiretap operation.
Gallardo was able to evade capture until 1989.
Although all three kingpins were caught, there are elements of their arrest which still rankle Mr Kuykendall.
"The United States dragged its feet," he recalls. "I'm pretty sure Caro Quintero will spend the rest of his life in prison in Mexico, but it would have been better to bring him to the United States for trial, so we could have learnt who in the Mexican government had been protecting him."
For many analysts, the Camarena killing marked a key turning point in the fight against drug trafficking in Mexico.
First, it broke up the Guadalajara cartel into splinter groups, which formed the basis of today's powerful drug organisations.
Among them is the Sinaloa cartel, led by a former protege of Felix Gallardo, Joaquin "El Chapo" Guzman, currently considered the most powerful drug trafficker in the world.
Secondly, and perhaps more significantly, it marked a new level of brazenness by the cartels.
To kidnap a DEA agent in broad daylight from outside the heavily-protected US consulate building, and to torture and murder him, was further than they had ever gone before.
For Camarena's former boss, however, the extent of the violence currently experienced in Mexico is simply evidence that the lessons from the mid-1980s, about breaking down the links between state institutions and the drug traffickers, were never learned.
"It is tragic that [the violence] has transformed such a beautiful country into a place where people are afraid to venture out of their homes and afraid to travel between cities. That's not Mexico," says Kuykendall.
"Unfortunately Kiki's death didn't have the impact it should have had."