Michigan Hutaree militia on trial for sedition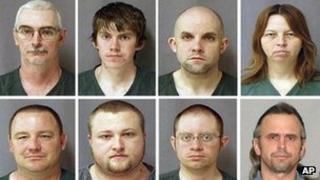 Seven members of a US militia have gone on trial accused of plotting to wage war against the US.
It is alleged the Hutaree group planned to kill a police officer then attack the funeral, in an attempt to trigger a revolt against the government.
Members of the Michigan-based militia are accused of sedition, or rebellion, and weapons offences.
But they say they were just exercising their constitutional right to free speech, assembly and to bear arms.
In opening statements, prosecutors said the group was willing "to go to war" to overthrow the US government.
Defence lawyers argued that the Hutaree was a "social club", and characterised statements about violent actions made by the group as "almost fantasy".
Nine militia members were arrested in March 2010 in southern Michigan, Ohio and Indiana, as a result of an undercover operation involving a group informant.
Law enforcement officers allegedly seized machine guns, unregistered firearms and parts for improvised explosive devices.
Weapons displayed
"They wanted to start an armed confrontation," prosecutor Christopher Graveline said, holding up automatic weapons retrieved after the arrests. "The war to them meant patriots rising up against the government."
According to the indictment, the group planned to target state and federal police officers, referring to them as "foot soldiers" of the government and participants in a "New World Order".
The prosecution is said to have about 100 hours of video and audio recordings of the group allegedly talking about police.
On Monday, prosecutors showed some of the recordings, including a video clip of alleged leader David Stone, 47.
In the tapes, Mr Stone is quoted as saying: "I think we got to just start hunting them here pretty soon.
"They're easy to find, they're sitting alongside the road and they got these red and blue lights on top of their car."
A website in the name of the Hutaree group described them as Christian warriors and showed video footage of military-style training exercises.
'Extreme charges'
Defence lawyers argued that the group had no specific plan to do harm to anyone in authority.
Todd Shanker, a defence lawyer, told jurors that while there were "offensive statements" on the recordings they amounted to all but fantasy, and the charges did not fit.
"These are extreme charges," he said. "They are going to fail, and they are going to fail miserably."
Anothe defence lawyer, William Swor, told jurors the display of weapons by the prosecution was an attempt to "make you afraid", and said Mr Stone's religious beliefs had prompted many of his statements.
"The anti-Christ as David Stone understands it will come from overseas, and the troops of the anti-Christ will take over America," Mr Swor said. "That is the resistance that David Stone was preparing for."
Mr Stone's wife and co-defendant, Tina Mae Stone, told the Associated Press news agency: "It was just a bunch of good old boys out to have fun. We did survival stuff. I did it mostly to spend time with my husband."
The other defendants are David Brian Stone Jr; Joshua Stone of Lenawee County, Michigan; Thomas Piatek of Whiting, Indiana; Kristopher Sickles of Sandusky, Ohio; and Michael Meeks of Manchester, Michigan.
One of the accused, Joshua Clough of Blissfield, Michigan, reached a plea deal and another, Jacob Ward of Huron, Ohio, will be tried separately.
All of those arrested were released on bail, despite prosecutors' objections, with the exception of Mr Stone Snr.