Supreme Court Judge Stephen Breyer robbed in Caribbean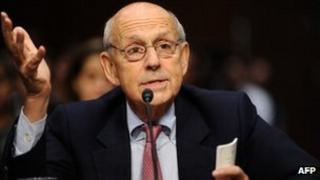 US Supreme Court Justice Stephen Breyer was robbed by a machete-wielding man at his Caribbean vacation home, a Supreme Court spokeswoman said.
The robber broke into Judge Breyer's home on the island of Nevis around 21:00 EST (02:00 GMT) on Thursday and took about $1,000 (£633) in cash.
The Supreme Court justice was at home with his wife and guests, but no one was hurt, the spokeswoman said.
The robbery was reported to local authorities.
The US Marshals Service, along with the Supreme Court police, are helping with the investigation, Marshals Service spokesman Jeff Carter said.
The justices will hold a private conference on Friday after a nearly month-long recess.
The last time a Supreme Court justice became a victim of crime was in 2004, when David Souter suffered minor injuries after being assaulted while out jogging in Washington.
In 1996, Justice Ruth Bader Ginsburg's purse was snatched near her Washington home.