Washington gay marriage bill signed into law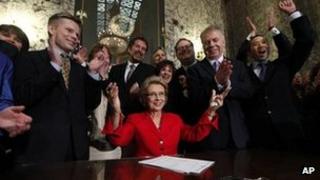 The governor of Washington has signed the US state's gay marriage bill into law, making it the eighth place in the nation to allow same-sex weddings.
"I'm proud our same-sex couples will no longer be treated as separate but equal," Christine Gregoire said, surrounded by gay rights supporters.
The law will go into effect on 7 June.
The bill signing came on the same day New Jersey's state Senate voted 24-16 in favour of gay marriage - a reversal of its decision in a 2010 vote.
That vote failed by 20 votes to 14, and although the measure may yet pass the New Jersey General Assembly, Governor Chris Christie has said he will veto any bill that emerges.
Mr Christie argues that the issue is important enough to go to a state-wide popular vote.
Last week, a federal court declared California's ban on gay marriage unconstitutional.
Opponents have already vowed to fight Washington's law, filing paperwork on Monday to bring it to a referendum if they collect the required number of signatures.
Marriage between gay and lesbian couples is now legal in seven US states and the District of Columbia.