Chinese press says US visit test for vice-president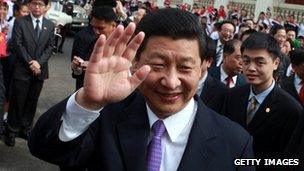 Chinese papers see as Vice-President Xi Jinping's trip to the United States as an important test for the man expected to be the country's future leader.
Some also see the potential for consolidating relations between the two powers, with one commentator pointing out that the visit coincides with Valentine's Day.
While one writer expects no change in China-US ties - because of what he sees as Washington's determination to contain China militarily - there is also an expectation that mutual trust can be established between the two nations.
Zhong Sheng in Beijing's Renmin Ribao
This is an important start to high-level exchanges between the two countries. It is aimed at implementing the consensus reached by the heads of state of the two countries to jointly build a cooperative partnership. With the joint effort of both sides, Vice-President Xi Jingping's official visit can certainly achieve success.
Qin Hong in Beijing's Renmin Ribao
The visit coincides with Valentine's Day, and some have said this visit will enable the Chinese-US to develop into that of two lovers. China and the US are unlikely to become either lovers or enemies though, and are in fact more like a pair of travelling companions who are in the same boat but with totally different personalities. There is co-operation and also competition.
From China's perspective, there are four major points of friction: The first is China's status as a market economy. The second is that the US has constantly imposed antidumping and sanctions against Chinese exports to the US. The third is that the US imposes rigorous restrictions on high-tech exports to China. The fourth is that Chinese enterprises are discriminated against when making investments in the US.
China-US economic and trade co-operation must exclude political interference to achieve equality without discrimination and fairness without exclusion.
Prof Niu Jun in Shanghai's Dongfang Zaobao
Whoever has the ability to stabilise and control China-US relations can get extra points. This visit is a test for Xi Jingping.
Editorial in Beijing's Xin Jing Bao
A more important question is how China and the US transform economic-trade interdependence into strategic mutual trust and mutual concern.
Hong Junjie in Shanghai's Jiefang Ribao
It is difficult to simply describe China-US relations as "good" or "bad", but they are "important" to each other and to the world.
Editorial in Hong Kong Economic Journal
Hu Jintao visited the US as vice-president in 2002 and passed the test for taking over the highest position in the state; Xi Jingping has embarked on the same track of establishing a personal relationship between leaders as a new starting point for developing inter-state relations.
Lam Shan-muk in Hong Kong Economic Journal
China-US relations will not make the slightest advance or retreat because of Xi Jingping's visit. The US "strategy" of "containing" China militarily will not weaken at all.
BBC Monitoring selects and translates news from radio, television, press, news agencies and the internet from 150 countries in more than 70 languages. It is based in Caversham, UK, and has several bureaux abroad.
Related Internet Links
The BBC is not responsible for the content of external sites.