Fourth-generation Kennedy launches bid for US Congress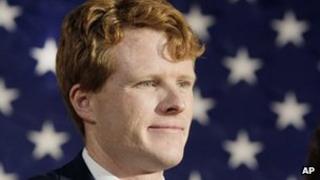 Joseph P Kennedy III is run for election to the US Congress, becoming the fourth generation of the Kennedy family to stand for office.
Mr Kennedy made the announcement in a three-minute video posted on his website, before embarking on his first day on the campaign trail.
He is vying for the Massachusetts House seat left vacant by the retirement of long-serving Democrat Barney Frank.
Mr Kennedy, 31, worked as a prosecutor before launching his campaign.
"I've spoken to people from across Massachusetts who believe that Washington no longer works for them," Mr Kennedy said in the video.
He said he would run for a fair tax code, a plan that would create jobs by focussing on infrastructure projects and a housing policy designed to stabilise the market.
He faces Herbert Robinson and Paul Heroux, who are running as Democratic candidates for the same seat, as well as Republicans Sean Bielat and Elizabeth Childs.
Union backing
Mr Kennedy visited Newton, Massachusetts, on the first day of his campaign, telling reporters that he did not think his family name would lead to success at the polls.
"You've got to go out every day and talk to people, listen to their concerns, shake more hands, knock on more doors, take more phone calls," he said.
Mr Kennedy has already received the endorsement of two labour unions, and holds an early lead in polls, the Associated Press reports.
The last member of the Kennedy dynasty to hold office was Representative Patrick Kennedy, who resigned and finished his term in 2011.
That heralded the first period in 64 years without a Kennedy serving in elected office in Washington DC.
The young Kennedy's own father, Joseph P Kennedy II, served in Congress for 12 years.
Mr Kennedy is a former Peace Corps volunteer and has been a prosecutor since he graduated from Harvard Law School.
His grandfather, New York Senator Robert Kennedy, the brother of President John F Kennedy, was shot and fatally wounded while campaigning for the Democratic presidential nomination in 1968.