John McCain: Egypt working 'diligently' on NGO case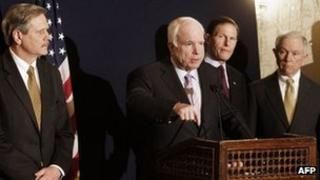 Egypt is working "very diligently" to resolve the case of foreign workers facing charges, the country's military ruler has told US Senator John McCain.
Visiting Cairo, Mr McCain said Field Marshall Mohamed Hussein Tantawi had assured him Egypt was seeking to resolve the issue.
Mr McCain expressed "guarded optimism" the case could be brought to a close.
Egypt's ruling military council has accused foreign groups of funding street protests against them.
At least 43 NGO workers, including 19 Americans, are facing charges and have been banned from leaving Egypt.
Washington has warned it could review US aid to Egypt unless Cairo respects the rights of non-governmental organisation (NGOs).
Their trial is set to begin on 26 February.
New NGO law
Mr McCain is one of five US senators visiting Egypt, in a trip planned before the NGO workers were charged.
On Monday the senators met with representatives from the Muslim Brotherhood and its political party, the Freedom and Justice Party, which now holds the largest voting bloc in Egypt's parliament.
"The speaker informed us they are working on a new NGO law to update the Mubarak era's rather restrictive and repressive NGO law," Mr McCain said.
US state department officials warned previously that aid to Egypt, including military support from the US, could be under threat if charges against NGO workers were not dropped.
Another senator in the delegation, South Carolina Republican Lindsey Graham, told reporters it was still in US interests to help Egypt.
"It is in our interest economically, politically, and certainly from a national security point of view to help this young, struggling democracy, because if it turns out well, everything in this region changes for the better."
Mr Graham is a board member of one of the organisations facing censure, the International Republican Institute, and dismissed the charges.
"This was a politically motivated action," he said. "And as an American I'm offended that people would say things about these organisations."
The US groups deny they have done anything illegal and have accused Egypt's military rulers of derailing democracy.
Egypt's main accuser in the NGO case, cabinet minister Faiza Abul Naga, was appointed by former President Hosni Mubarak.