Police break up Orlando Nike rush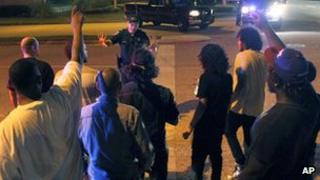 More than 100 police officers, some in riot gear, broke up a Florida crowd after shoppers waiting for new Nike shoe rushed towards the store.
Authorities say there were no injuries or arrests, but the midnight shoe release was cancelled.
In the state of Maryland, one person was arrested for disorderly conduct as a crowd waited outside a Nike outlet.
The $220 (£139) limited-edition shoe was released on the eve of the NBA All-Star basketball in Orlando, Florida.
Helicopter spotlight
As crowds gathered on Thursday night, officials from the Florida Sheriff's Office, the Orlando Police Department and Florida Highway Patrol told them to wait in a car park opposite the shop.
Eventually one person ran towards the Foot Locker store, prompting others to follow, the Orlando Sentinel newspaper reported.
Police used shields to push back the crowd and more officers arrived with riot gear, some on motorcycles or on horseback. A helicopter with a spotlight was also called in.
The disturbance is not the first time a high-profile retail event has ended in unrest.
There were multiple disturbances across the US in December as shoppers lined up for a new version of the Nike Air Jordan shoe.
On Black Friday, the day after the US holiday of Thanksgiving, the start of the US holiday shopping season was marred by shootings and pepper-sprayings as bargain-hunters stampeded stores.