Guantanamo detainee Majid Khan admits terror charges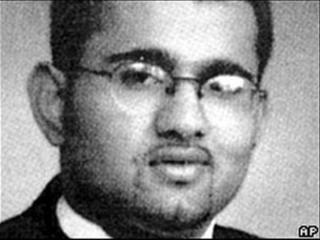 The first "high value" prisoner held at the US detention centre at Guantanamo Bay has pleaded guilty to terror charges at a military tribunal.
Pakistani Majid Khan, who had lived in the US, agreed to enter the plea in exchange for leniency.
He faces charges which include conspiring with al-Qaeda, murder and attempted murder.
The 32-year-old has been in secret US custody since 2003 and alleges that he has been psychologically tortured.
Khan made a public appearance at the Guantanamo Bay tribunal for the first time after almost nine years in US custody.
'Psychologically tortured'
He wore a dark suit and tie, and allowed his lawyer to speak on his behalf during the hearing.
"Mr Khan pleads as follows to all charges and specifications, guilty," Army Lt Col Jon Jackson, Khan's military lawyer, said.
When the judge asked him if he agreed with the statement, Khan said: "Yes, sir".
His sentencing has been postponed until 2016.
According to a plea bargain document released by the US government, Khan's sentence would be capped at 25 years in exchange for pleading guilty.
It was expected that he would testify against his fellow detainees in return, although those details have not been released by the court.
One of those detainees is Khaled Sheikh Mohammed, the self-proclaimed mastermind of the 9/11 attacks. Khan is accused of meeting him in Pakistan and plotting to blow up fuel tanks in the US.
Prosecutors also allege Khan volunteered to assassinate former Pakistani President Pervez Musharraf and passed money to the Islamist militant group Jemaah Islamiah.
He is accused of travelling to Bangkok to deliver $50,000 (£31,400) to the group. The money allegedly funded the August 2003 suicide bombing of the Marriott hotel in Jakarta, Indonesia, which killed 11 people and wounded at least 81 others.
Khan had moved to the US in the late 1990s, where he went to high school in Baltimore and worked at his family's petrol station.
The US government says it was on his return to Pakistan that family members introduced him to Khalid Sheikh Mohammed.
'Psychologically tortured'
Khan's guilty plea makes him the seventh prisoner to be convicted of war crimes offences since the military tribunal system was established at Guantanamo Bay.
After the detention facility opened in 2002, the US faced a complex legal debate about how to try those detained on the island.
Classified as "enemy combatants", many were designated high-risk prisoners and saw opposition either to their continued detention without charge or to the prospect of trying them within the US civilian system.
The US eventually settled on a system of military tribunals to try detainees at Guantanamo, while transferring some to the US mainland for civilian trials. Majid Khan is the first high-profile detainee to be convicted.
He was first arrested in March 2003, when Pakistani forces raided his family's home in Karachi.
They turned him over to the CIA and he was held in secret confinement overseas, until he was transferred to Guantanamo with other high-value detainees in 2006.
He told a military tribunal in 2007 that he had been "psychologically tortured" and had tried to commit suicide twice.
He denied have links with al-Qaeda.
The US military currently holds 171 prisoners at the prison, and officials have said about 35 could face war crimes charges.