West Virginia mine blast boss gets three-year sentence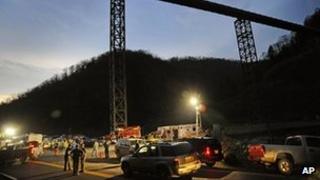 A former US mine chief who lied to investigators about one of the worst mining tragedies in decades has been sentenced to three years in prison.
Hughie Elbert Stover was in charge of the Upper Big Branch mine, where 29 men died after an explosion in April 2010.
Prosecutor Booth Goodwin had sought a 25 year sentence.
An investigationinto the incident has found that the mine violated 369 safety regulations, 12 of which contributed to the blast.
Mr Goodwin told reporters that the sentence "represents perhaps one of the longest sentences ever handed down in a mine safety case".
"We wanted to send a clear message and will continue to send that anyone who obstructs our investigation, they're going to be met with the harshest prosecution."
Record settlement
In December, the new owners of the mine agreed to pay $210m (£135m) in damages, the largest US settlement for a mining disaster.
Alpha Natural Resources will compensate victims' families, pay fines and upgrade safety features.
Stover is the only person to be prosecuted so far, although the agreement does not prevent former executives from being prosecuted as well.
Bill Wilmoth, Stover's defence lawyer, said he had not decided on whether to appeal against the sentence, but called the three-year term a "hollow" victory for his client.
"Three years is a long time for someone who is 60 to be incarcerated," Mr Wilmoth said.
Gary Quarles, whose son died in the blast, told the Associated Press news agency the punishment was more than he expected.
"It's a little bit of satisfaction. It's a start," Mr Quarles said.