Romney and Santorum evenly split Michigan delegates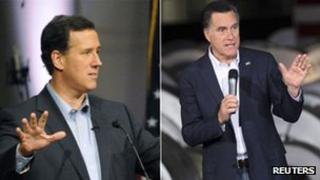 US Republican presidential hopefuls Mitt Romney and Rick Santorum have each won half of Michigan's 30 available primary delegates, officials say.
Mr Romney won the Arizona primary and all of its 29 delegates, and also won the popular vote in Michigan.
But the state's rules for awarding delegates mean Mr Santorum ended up level-pegging with the official winner.
The candidates are now preparing for Super Tuesday on 6 March, in which 10 states will hold voting contests.
Republican candidates need to amass 1,114 delegates to clinch the Republican nomination for president and get the chance to challenge Barack Obama in November.
Mr Romney - long assumed to be the front-runner and favourite for the nomination -the delegate race.
But the mixed outcomes of recent primaries and caucuses, and the prospects for Super Tuesday, appear to indicate that the nomination fight will continue longer than expected.
On the campaign trail in Tennessee, which votes next Tuesday, Rick Santorum said the true story of Michigan's primary was not the Romney triumph that dominated the morning headlines.
"We had a much better night in Michigan than maybe was first reported," he said.
'Money' campaign
Campaigning in Ohio, Mr Romney continued his focus on the economy as well as attacks on both Mr Santorum and Mr Obama.
"The reason I won yesterday in Michigan and Arizona is because I'm talking about the issue people care most about and I understand that issue," he told supporters.
Mr Romney, a former Massachusetts governor and private equity tycoon, told the crowd that his rival Mr Santorum was "a nice guy, but an economic lightweight", echoing previous attacks he had made on the former Pennsylvania senator.
He reprised themes from his Michigan victory speech on Wednesday, calling for "more jobs, less debt and smaller government".
Ohio, one of 10 states voting on Super Tuesday, is also a crucial general election state that has divided its recent history of presidential votes among Republicans and Democrats.
Mr Santorum spent his day campaigning in Tennessee, arguing that the eventual Republican nominee needs to talk about more than "their history" and "contrast it with a president who doesn't believe in you".
He characterised himself as the only candidate "who can provide sharp contrast with Obama on healthcare".
Mr Santorum told Fox News on Wednesday that he would compete seriously in multiple states on 6 March and expects to do "exceptionally well".
Super Tuesday strategy
Former House Speaker Newt Gingrich and Texas congressman Ron Paul did not compete in Tuesday's primaries, focusing on next week's contests, which include Mr Gingrich's home state of Georgia.
Mr Gingrich is leading polls in the state, withone recent surveyputting him as much as 15% ahead of Mr Santorum.
The former House of Representatives Speaker has conceded Georgia is a state he must win if he hopes to continue his campaign.
He won January's South Carolina primary following a surge in his popularity, but has since seen his poll numbers fade. An independent committee supporting Mr Romney funded numerous attack ads in the run-up to the Florida primary.
Neither Mr Gingrich nor Mr Santorum is on the ballot in one Super Tuesday state, Virginia, having not met the filing deadline, virtually assuring Mr Romney of a strong win there.
Mr Romney won the Florida and New Hampshire primaries, while Mr Santorum gained the lead in three non-binding contests held earlier in February.
Mr Paul is focusing on states that will hold caucuses, where he believes he has the most likely chance of winning delegates.
He will make a trip to Alaska this coming weekend, a rare visit for any national political candidate.