Afghanistan killings suspect: Staff Sergeant Robert Bales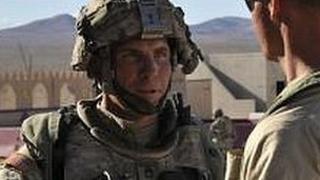 The US Army staff sergeant who allegedly killed 16 Afghans in an early morning rampage has been named as Staff Sergeant Robert Bales.
Even before he was named by US officials, a few details of his life had trickled out.
He was on his fourth deployment to combat zones and had been injured twice on previous tours of duty.
The 38-year-old has been moved to a military prison in the US after being transported from Afghanistan to Kuwait. He has not yet been charged.
He is described as a father of two who has served in the US Army for 11 years after enlisting in 2001.
'Snapped'
Sergeant Bales stands accused of attacking the Afghan villagers inside their homes in three different locations in Panjwai district, Kandahar province. The victims were mostly women and children, killed in the early hours of 11 March.
According to reports, he allegedly walked off a base known as Camp Belambay to the nearby villages. Some of the victims' bodies had been set on fire.
He returned to the base and surrendered his weapon.
An anonymous US official confirmed to the New York Times that the soldierhad been drinking alcoholthe evening before the attack.
"When it all comes out, it will be a combination of stress, alcohol and domestic issues - he just snapped," the US military official said.
Alcohol use in a combat zone is a violation of military rules.
Sergeant Bales saw a friend's leg blown off the day before the shootings, according to his lawyer, John Henry Browne. The sergeant was standing next to the man when he was injured and the incident reportedly affected all the soldiers at the base.
This incident has not been otherwise confirmed.
Mr Browne has been retained by the soldier's family. He has previously represented a number of high-profile clients including serial killer Ted Bundy and a teenage thief known as the Barefoot Bandit.
'Totally shocked'
Sergeant Bales is based out of Joint Base Lewis-McChord in Washington state and is a member of the 3rd Stryker Brigade, 2nd Infantry.
His deployment with that unit to Afghanistan in December came after three prior combat tours in Iraq.
During his time in Iraq, he was injured twice - a concussion after his vehicle hit a roadside bomb and a combat injury that led to the loss of part of his foot.
According to several US reports, he had been diagnosed with traumatic brain injury, and received treatment at Lewis-McChord before being cleared to resume duty.
Mr Browne said that he had met with the family on Wednesday at Lewis-McChord, describing them as "totally shocked". The family has been moved to the base for safety reasons.
Several US media reports say Sgt Bales grew up in Norwood, Ohio, played football in high school and attended two colleges in the state before dropping out for unknown reasons.
It has now also emerged that - along with another man and his company - Sgt Bales owed a reported $1.5m (£950,000) from an arbitration ruling nearly a decade ago which found him guilty of securities fraud while he was working as a stockbroker.
He signed up several weeks after the 9/11 attacks on New York and Washington, spending his entire military career based out of Lewis-McChord.
Sgt Bales reportedly had two brushes with the law during his time at Lewis-McChord, including being charged with misdemeanour assault of a woman in a Tacoma, Washington hotel room in 2002.
He pleaded not guilty and the charge was dropped after Sgt Bales completed anger-management counselling and paid a fine.
He was also involved in a vehicle rollover accident in 2008, and charged with fleeing the scene. No other cars were involved but witnesses reported a man in a military-style uniform running into the woods.
Sgt Bales told police he had fallen asleep behind the wheel. He was sentenced to a fine and a deferred 12-month jail term, which was eventually dropped.
His wife, Karilyn Bales, wrote on her blog in March 2011 that Sgt Bales had not been promoted as expected.
It was a disappointment to the family,the New York Times reported, but they anticipated moving either elsewhere in the US or overseas in Europe to continue his military career.
The family had two homes in the Tacoma-area, according to the Times, one of which they had long moved out of and were behind on the payments.
Sgt Bales' wife had recently asked a real estate agent to put the second home on the market, citing financial difficulties.