Afghan massacre suspect Sgt Bales 'remembers little'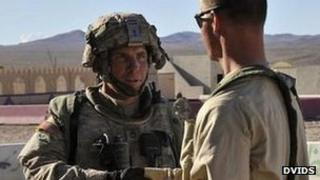 The US soldier accused of killing 16 Afghan civilians in their homes remembers "very little" of the incident, his lawyer has said.
John Henry Browne made the comments after he met Staff Sgt Robert Bales at a US army prison for the first time.
The killings have undermined US relations with Kabul and led to calls for Nato to speed up their planned withdrawal of troops from Afghanistan.
Sgt Bales, 38, is being held in solitary confinement pending charges.
He arrived at the military detention centre in Kansas on Friday after being flown from Kuwait, the US Army said. Formal charges are expected within the week.
Sgt Bales is the only known suspect in the killings - despite repeated Afghan assertions that more than one American was involved.
His wife, Karilyn, has issued a statement expressing her condolences to the victims and their families and saying what reportedly took place is "completely out of character of the man I know and admire".
'Emotional' meeting
Mr Browne met his client at Fort Leavenworth on Monday to begin preparing his defence.
He told the Associated Press that Sgt Bales had "some memory of some things that happened" in the early hours of 11 March.
"He has some memories of before the incident and he has some memories of after the incident. In between, very little," Mr Browne said.
Pressed on whether Sgt Bales could remember anything about the shooting, Mr Browne said, "No," but added: "I haven't gotten that far with him yet."
Mr Browne was more unequivocal earlier,telling CBS NewsSgt Bales "doesn't have memory" of the alleged massacre.
He also played down Sgt Bales' consumption of alcohol on the nights of the killings, saying he had had a "couple of sips of something but he didn't have a full drink".
Earlier, Mr Browne described his meeting with his client as "emotional".
"What's going on on the ground in Afghanistan, you read about it, I read about it, but it's totally different when you hear about it from somebody who's been there," Mr Browne told AP.
He suggested his client was not fit to serve because of injuries he had suffered on previous tours of duty.
Mr Browne has represented a number of high-profile clients including serial killer Ted Bundy and a teenage thief known as the Barefoot Bandit.
In her media statement, Karilyn Bales said she too wanted to know what happened and "know how this could be".
She said the Afghan victims and their families "are all in my prayers, as is my husband, who I love very much".
Bales' 'troubles'
The sergeant's past brushes with the law included charges for assault and fleeing a car accident.
Sgt Bales paid fines in both cases and had to attend anger management classes for the assault, after which the charges were dropped.
He and his wife had reportedly struggled to make the payments on two properties they had bought.
It has now also emerged that - along with another man and his company - Sgt Bales owed a reported $1.5m (£950,000) from an arbitration ruling nearly a decade ago which found him guilty of securities fraud while he was working as a stockbroker.
The Pentagon has previously said that Sgt Bales could face charges that carry a possible death penalty.
Such a trial could take years, contrasting with Afghan demands for swift and decisive justice.
The Taliban called off peace talks in the wake of the deadly rampage, in which men, women and children were shot and killed at close range.