Hutaree militia acquitted of sedition charge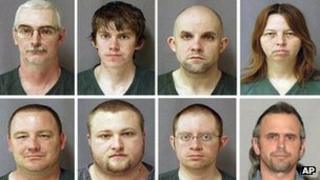 Seven members of a militia in the US state of Michigan have been acquitted of sedition and conspiracy to use weapons of mass destruction.
Prosecutors argued the Hutaree group plotted to attack police, but defence lawyers said it was merely a case of hateful comments. No attack took place.
An FBI informant had recorded conversations with the militia leader, David Stone, leading to the arrests.
Weapons charges are still pending against two of the defendants.
US Attorney General Eric Holder had once described the group as a "dangerous organisation".
But a judge said that while the group had expressed hatred of policemen, it did not amount to plotting to wage war against the US.
"The court is aware that protected speech and mere words can be sufficient to show a conspiracy. In this case, however, they do not rise to that level," Judge Victoria Roberts said.
The statements and training exercises of Mr Stone "do not evince a concrete agreement to forcibly resist the authority of the United States government," the judge added.
"His diatribes evince nothing more than his own hatred for - perhaps even desire to fight or kill - law enforcement; this is not the same as seditious conspiracy."
'New revolution'
In 2008, FBI agent Dan Murray was embedded within the Hutaree group. Later, a second agent from New Jersey, Steve Haug, became involved. He was best man at Mr Stone's wedding.
Posing as a lorry driver, Mr Haug recorded hours of conversations with Mr Stone. They discussed pipe bombs and other sorts of explosives.
Mr Haug testified that he was "shocked" by Mr Stone's knowledge of explosives and compared it with his own expertise as a federal agent.
The FBI had rented a warehouse in Ann Arbor, Michigan, where the militia and agents would meet and discuss weapons.
Mr Stone was recorded saying he wanted to kill policemen and their families, and that they belonged to a sinister global "brotherhood".
He suspected Canadian troops would invade Michigan, and that Germany and Singapore had stationed planes in Texas.
Mr Stone said that the government had put computer chips in flu vaccinations.
In one recording from 2010, when Mr Stone was preparing to address a regional gathering of militia members in Kentucky, he said: "It is time to strike and take our nation back so that we may be free again from tyranny.
"Time is up, God bless all of you and welcome to the new revolution."
The defendants have been on trial since 13 February.