Dominique Strauss-Kahn claims diplomatic immunity in maid case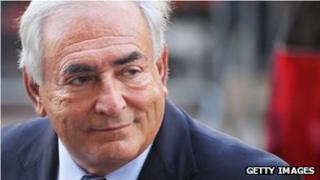 Dominique Strauss-Kahn is claiming that he has diplomatic immunity in a civil case brought by the hotel maid who accused him of a sex attack last year.
Nafissatou Diallo brought the action in New York after criminal charges were dismissed against the former head of the International Monetary Fund (IMF).
The charges were dropped when prosecutors lost faith in her evidence.
Mr Strauss-Kahn is currently in France fighting claims that he was involved with a prostitution ring.
The hearing in New York is the first stage in the civil case brought by Ms Diallo.
She maintains he attacked her when she came to clean his suite at the Sofitel Hotel in the US city.
Mr Strauss-Kahn's lawyers argued in court that the case should be dropped, saying the defendant had diplomatic immunity at the time of the alleged assault.
"Dismissal, your honour, may seem like an unfair result to some, but it's the result the law compels," Amit Mehta, one of Mr Strauss-Kahn's lawyers, told Bronx state Supreme Court Justice Douglas McKeon.
A lawyer representing Ms Diallo, Douglas Wigdor, suggested Mr Strauss-Kahn "thinks he can unilaterally, himself, in his own personal capacity, assert diplomatic immunity and not be held accountable for his actions".
The IMF has said Mr Strauss-Kahn was not entitled to immunity because he was in New York on personal business at the time.
Judge McKeon did not make an immediate ruling after Wednesday's hearing, but said he would seek to issue one "expeditiously".
'Sex parties'
In France, Mr Strauss-Kahn has been placed under investigation over allegations that he was involved in a hotel prostitution ring in the northern city of Lille.
He has admitted he attended sex parties, but denies that he knew the women involved in the orgies were hired prostitutes.
Leaked police documents emerged on Wednesday that appear to show that he exchanged text messages with the people running the parties, in which prostitutes were referred to as "material".
Prosecutors claim the term suggests he knew the identity and profession of the women taking part.
At least one of those women has told police there was undue aggression at these events, an allegation Mr Strauss-Kahn strenuously denies.
The parties he attended were stopped soon after his arrest in May last year.