Newt Gingrich cuts third of campaign staff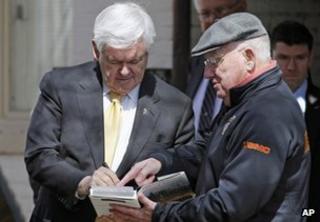 Republican presidential candidate Newt Gingrich's struggling campaign has laid off about a third of staff and replaced its manager.
The former Speaker of the House of Representatives has also drastically reduced his campaign diary.
A spokesman said the campaign would focus on trying to win the Republican nomination at the party convention.
Mr Gingrich has managed to win only two primaries, South Carolina and Georgia, since the race began in January.
The former Georgia congressman has tried to become the conservative alternative to front-runner Mitt Romney, but that mantle has in effect been taken by former Pennsylvania Senator Rick Santorum.
'Money is tight'
Mr Gingrich's cash-strapped presidential bid had debts of more than $1.5m (£940,000) last month,according to Federal Election Commission filings.
His campaign's latest fundraising tactic is reportedly to charge people $50 to have their photo taken with the candidate.
Mr Gingrich said while campaigning in Maryland on Tuesday: "The money is very tight, obviously."
Gingrich spokesman RC Hammond said the candidate would focus on personally trying to win over the delegates who will anoint the winner of the Republican race at the party's convention in Tampa in late August.
Gingrich campaign manager, Michael Krull, has been replaced by his deputy, Vince Haley,reports Politico, which broke the story.
About a dozen campaign staff will be "transitioning out by the end of the month", Gingrich communications director Joe DeSantis told Politico.
Mr Santorum said: "I think it is time for all the Republican candidates to coalesce behind me. You know, let's just have a conservative nominee to take on Barack Obama."
Former Massachusetts Governor Romney is way ahead in the race to clinch enough delegates to become the Republican nominee who will challenge Democratic President Barack Obama in November's election.