George Bush Snr formally endorses Mitt Romney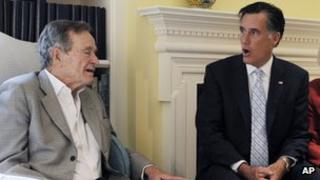 Former US President George H W Bush has formally endorsed Republican presidential candidate Mitt Romney.
The two appeared together on Thursday in Houston, Texas, with Mr Bush saying he "fully and enthusiastically" endorsed "our old friend Mitt Romney".
There have been calls for challengers Rick Santorum and Newt Gingrich to quit the race, so the party can unite behind Mr Romney as its White House nominee.
It emerged on Tuesday the Gingrich campaign had been scaled down.
Former Massachusetts Governor Romney is way ahead in the Republican race to become the challenger to Democratic President Barack Obama in November's election.
Mr Bush, president from 1989 to 1993, said on Thursday he thought it was time for the Republican party to get behind the former governor of Massachusetts.
His wife, former First Lady Barbara Bush, recorded automated telephone calls for Mr Romney during the primary in Ohio earlier this month.
Gingrich debts
Their son, Jeb Bush, a former Florida governor, later became the latest party heavyweight to back Mr Romney.
Their other son, former President George W Bush, has not backed any candidate in the Republican primary race.
Meanwhile, Mr Gingrich's struggling campaign has drastically reduced its campaign diary after laying off about a third of staff and replacing its manager.
A spokesman for the former Speaker of the House of Representatives said the campaign would focus on trying to win the nomination at the party convention in Tampa, Florida.
The former Georgia congressman has tried to become the conservative alternative to Mitt Romney, but he has fallen behind Mr Santorum, a former senator from Pennsylvania.
The Gingrich campaign's latest fundraising tactic is reportedly to charge people $50 (£31) to have their photo taken with him.
Mr Santorum said: "I think it is time for all the Republican candidates to coalesce behind me. You know, let's just have a conservative nominee to take on Barack Obama."