Hutaree militia leader David Stone admits gun charge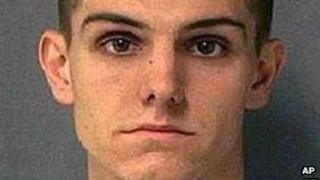 The leader of a militia in the US state of Michigan and his son have pleaded guilty to illegal possession of a machine gun, days after sedition charges against them were dropped.
The plea ends a six-week trial over whether David Stone and Josh Stone - and five other Hutaree militia members - were plotting against the government.
They were arrested in 2010 as a result of an undercover federal operation.
The two men could face additional prison time for pleading guilty.
Since their arrest in 2010, David Stone, 51, and Josh Stone, 23, have been held without bail.
Prosecutors asked that they remain in custody until their sentencing hearing, but the judge has released them.
During the trial, the court heard recordings of conversations in which the leader of the militia discussed building bombs and killing policemen.
But the judge said there was not enough evidence of a specific plan. No attack ever took place.
"What the government has shown, instead of a concrete agreement and plan to forcibly oppose the authority of the government, is that most - if not all - of these defendants held strong anti-government sentiments," Judge Victoria Roberts wrote.
"But the court must not guess about what defendants intended to do with their animosity."