Obama signs Congress insider trading bill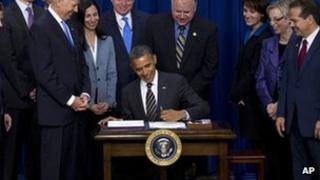 US President Barack Obama has signed a bill banning insider trading by members of Congress.
The STOCK Act was supported by both parties as an attempt to restore trust in a Congress with historically low approval ratings.
Previously, lawmakers could trade stock unrestricted even though they may have had specialist knowledge.
Mr Obama used the signing to push for further limits on lobbying and money's effect on Congress.
There is "obviously more that we can do to close the deficit of trust", Mr Obama said at the bill signing.
"We should limit any elected official from owning stocks in industries that they have the power to impact," he said.
"We should make sure people who bundle campaign contributions for Congress, can't lobby Congress, and vice versa."
Inside knowledge
While trading based on non-public business information has long been illegal for legislators, the insider trading rule did not apply to information gained through working in Congress.
A majority of the bill's provisions will come into effect in July. It was passed by the House in February and in the Senate a month later.
Representatives and senators will have 30 days to publicly report transactions more than $1,000 (£630).
The plan to ban insider trading by members of Congress gained momentum following a report in November by the CBS programme 60 Minutes.
The report found several representatives and senators, including senior figures on both sides of the political divide, had made trades shortly after receiving information not available to the public.
All of those named in the CBS report strongly denied any wrongdoing.
The Senate passed the bill 96 to 3, with many admitting that the bipartisan measure was aimed at restoring public confidence in the legislative body.
"When polls show low public confidence in Congress, there is a strong desire to address the concerns that underpin the public's scepticism," Maine Republican Susan Collins said at the time of the bill's passage.
Lawmakers abandoned an earlier proposal to also require public disclosure from business intelligence firms, which gather information from Congress and sell it to investors, among others.