Oikos 'shooter' One Goh faces multiple murder counts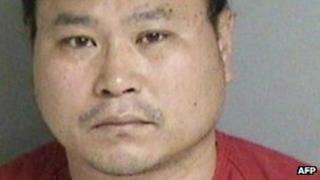 The man accused of Monday's shooting rampage at a California university has been charged with seven counts of murder and three of attempted murder.
One Goh, 43, allegedly opened fire at Oikos University, a small Christian college in Oakland, killing seven people and injuring three others.
Mr Goh, a former nursing student at the institution, did not enter a plea.
The shootings were the deadliest attack on a US campus since a gunman killed 32 people at Virginia Tech in 2007.
Mr Goh was arrested at a supermarket in the nearby city of Alameda, about an hour after the mid-morning shootings.
'Anger management'
According to court documents, he has admitted to police bringing a .45-calibre handgun and four magazines of ammunition to the university.
Police say he acknowledged shooting people and fleeing the scene.
Officials have said Mr Goh was expelled from the college for "anger management" issues.
But one administrator told the Associated Press news agency that Mr Goh had dropped out, and had repeatedly asked for a tuition refund.
Ellen Cervellon said that Mr Goh had told her that other students had teased him at the school.
Police initially believed Ms Cervellon, the nursing programme director, was Mr Goh's intended target.
However, they now say that another female administrator was the target.
They have not identified her, saying she fears for her safety.
Mr Goh previously lived in Virginia, and records show he was tens of thousands of dollars in debts.