'Winning' ticket in Mega Millions jackpot sparks row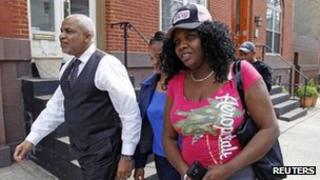 A US woman claims to have one of three winning lottery tickets from a $656m (£413m) jackpot, but her colleagues say it would be part of their syndicate.
A lawyer for Maryland woman Mirlande Wilson said in a news conference he had not seen the ticket, but added he was preparing for any challenges.
Ms Wilson told the New York Postshe hid the winning ticket somewhere at the Baltimore McDonald's where she works.
Maryland officials say no-one has come forward to claim the prize.
Lottery officials have called a press conference on Thursday to discuss the status of the Maryland winning ticket.
Ms Wilson spoke little during Wednesday's press conference but Edward Smith Jr, her lawyer, asked for reporters staking out her house to leave the 37-year-old woman alone.
"Let's be human about this," Mr Smith said, adding Ms Wilson's blood pressure had risen because of the attention. "It's just money, people."
Unsubstantiated claim
Three tickets - one in Maryland, one in Kansas and one in Illinois - matched the numbers drawn last week in the Mega Millions jackpot, the largest single prize in the world.
According to the Post, the boss of the McDonald's outlet gave Ms Wilson money to buy extra tickets for a group pool on Friday.
She says she bought those tickets, but also some for herself and that the winning ticket came from the latter set.
"We had a group plan, but I went and played by myself," she told the Post.
One of 15 members of the lottery syndicate, Suleiman Osman Husein, says the group does not believe her.
"We each paid $5. She took everybody's money!" hetold the Post.
Mr Smith said the mother of seven had been thrust into the spotlight by her colleague's accusations, and that he himself had no idea if the ticket was legitimate.
"I can't say with any certainty that this ticket exists," he said. "You never say that it's so until you've seen it with your own eyes."
A Maryland lottery official is dubious about the entire story.
"There's nothing to substantiate anything," Carole Everett, a spokeswoman for the Maryland lottery, told ABC News. "It's probably not this person."
Maryland and Kansas allows the ticket holder to remain anonymous. Illinois will identify the winner.
In March, a construction worker was ordered by a New Jersey jury to share $38.5m with five colleagues after he won with their combined tickets and kept the money for himself.
Americo Lopes always maintained he also had bought the winning ticket separately.