Obama says Augusta National golf club should take women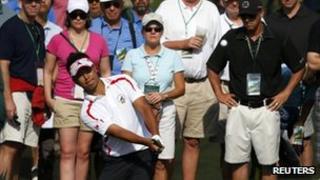 US President Barack Obama thinks women should be allowed to join Augusta National, the male-only golf club that hosts the Masters golf tournament.
The president's "personal opinion is that women should be admitted", White House press secretary Jay Carney said.
He added that it was up to the club in the US state of Georgia to make changes to its membership policy.
The new female IBM head was not invited to join, even though the firm's last four chief executives were all asked.
Throughout its 80-year history, Augusta National has permitted only men to become members.
The exclusion of Virginia Rometty, chief executive of IBM, from the all-male club gained attention since the giant technology company is a major sponsor of the club's annual golf tournament.
'Long past'
IBM declined to comment, but noted that Mrs Rometty plays golf occasionally.
"We're kind of long past the time when women should be excluded from anything," Mr Carney told reporters on Thursday.
The BBC's Steve Kingstone says it is a statement that Mr Obama hopes will play well on the campaign trail.
Polls already give him a significant lead among women voters over his likely Republican opponent, Mitt Romney.
Mr Romney also endorsed the idea on Thursday.
"Well of course," he told reporters after a Pennsylvania campaign stop. "Certainly if I were a member... of course I'd have women in Augusta."
The chairman of Augusta National has said the club should be allowed to make its own decision on the matter.
But correspondents say Augusta National's all-male policy could conflict with the non-discrimination goals of many sponsor companies.
The last time Augusta National's membership policy came under scrutiny, the club stood firm and hosted its golf tournament without sponsors for two years.