'Merchant of Death' Viktor Bout sentenced to 25 years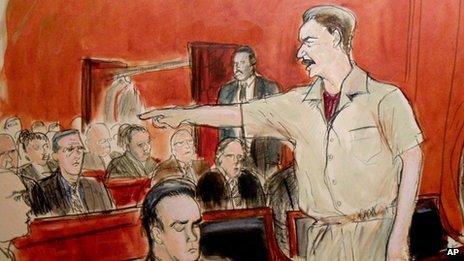 Arms dealer Viktor Bout, dubbed the "merchant of death", has been sentenced to 25 years in jail by a US judge.
During the sentencing, the ex-Soviet officer shouted "it's a lie" as the prosecution said he had agreed to sell weapons to kill Americans.
The 45 year old was found guilty in November of attempting to sell heavy arms to a Colombian rebel group.
He was arrested in Bangkok in 2008 after a sting operation in which US informants posed as Colombian rebels.
Bout - who was the inspiration for the arms smuggler in the 2005 Hollywood film Lord of War - remained in custody in Thailand for two years, before being extradited to the US to face trial.
Bout, a vegetarian who speaks six languages, hugged his lawyer and waved to his wife as he was led from the court on Thursday.
Earlier, he told the judge through a Russian interpreter that he "never intended to kill anyone" and said, "God knows this truth."
Sentencing had been delayed twice as his lawyer asked for more time to prepare and accused prosecutors of "outrageous government conduct" for allegedly entrapping the Russian.
Judge Shira Scheindlin said that 25 years was appropriate sentence for his crimes given the sting set up by US officials. She also ordered him to forfeit $15m (£9.5m).
"But for the approach made through this determined sting operation, there is no reason to believe Bout would ever have committed the charged crimes," she said.
Albert Dayan, Bout's lawyer, said they would appeal his conviction.
Bout agreed to sell 100 advanced portable surface-to-air missiles and approximately 5,000 AK-47 assault rifles during a meeting at a Bangkok hotel, according to prosecutors.
That meeting was not with the Revolutionary Armed Forces of Colombia (Farc), but with US Drug Enforcement Administration officials posing as representatives of the guerrilla group.
The conviction relates only to the attempted arms sale in Thailand, but US authorities say Bout has sold weapons to dictators and guerrilla forces in Africa, South America and the Middle East.
Manhattan US Attorney Preet Bharara said in a statement: "Viktor Bout has been international arms trafficking enemy number one for many years, arming some of the most violent conflicts around the globe.
"He was finally brought to justice in an American court."
It is said that Bout began channelling weapons to war-torn parts of Africa during the 1990s.
"Although Bout has often described himself as nothing more than a businessman, he was a businessman of the most dangerous order," prosecutors wrote in a pre-sentencing memo.
The US Treasury department banned any trade with Bout in 2004, citing an "unproven allegation" that he made $50m from selling arms to the Taliban.
During the trial, his defence argued Bout was just trying to sell two old cargo aircraft for $5m.
"Viktor was baiting them along with the promise of arms, hoping just to sell his planes," lawyer Albert Dayan told the court.