Oklahoma murders: Police hold two in Tulsa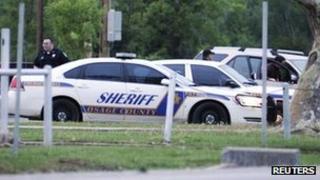 Police in Oklahoma have arrested two white men after three people, all black, were shot dead on Friday.
Two other black victims who were wounded in the shootings have now been released from hospital.
The suspects have been named by police as Jake England, 19, and Alvin Watts, 32.
They are expected to face three counts of first-degree murder and two of shooting with intent to kill.
Mr England and Mr Watts, who have not yet been charged, are expected in court on Monday.
The men were arrested at a home in Tulsa at 01:47 local time (06:47 GMT) on Sunday following an anonymous tip-off. They have been taken to a police station in the city for questioning.
Facebook posting
A helicopter was used in the operation to detain the suspects.
Police chief Chuck Jordan identified the three dead as Dannaer Fields, 49, Bobby Clark, 54, and William Allen, 31.
None of the victims are thought to have known each other and all five of them were out walking when they were shot within a 3 mile (4.8 km) radius of one another early on Friday.
The north Tulsa area, where the shootings took place, is a predominantly black area, although police have yet to establish a motive.
Police spokesman Jason Willingham said that based on Facebook postings attributed to Mr England, he may have been seeking revenge for his father's death two years ago.
On Thursday, according to Mr Willingham, Mr England posted an update, using a racial slur, that blamed his father's death on a black man.
'Axe to grind'
Carl England was shot in the chest during a fight with a man who had tried to break into his daughter's apartment.
"It's apparent from the posting on the Facebook page that he had an axe to grind, and that was possibly part of the motive," Mr Willingham said.
Susan Sevenstar, a family friend of Mr England, told the Associated Press that he was "a good kid" who "was not in his right mind" after his father's death and the suicide of his fiancee in January.
Mr Willingham could not confirm whether the suspects were armed when they were taken into custody.
However, of the investigation into the killings, he said: "We are going to turn over every rock."
Tulsa Police Chief Chuck Jordan had earlier said officers would do whatever it took to apprehend those responsible for what he described as "vicious and cowardly attacks".