Ozzie Guillen row: Can Miami speak freely on Castro?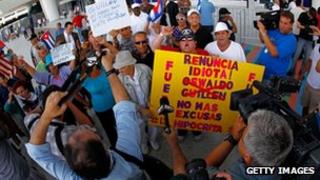 The Miami Marlins baseball team suspended manager Ozzie Guillen for five games after he praised Cuba's Fidel Castro. Is it possible to speak freely about Cuban politics in America's most Cuban city?
The suspension has reminded many of other incidents in which Cuban Americans were attacked for their political views.
Ozzie Guillen expressed some admiration for Mr Castro in an interview with Time Magazine.
"I love Fidel Castro," the Venezuelan native said. "I've got respect for Fidel Castro. Do you know why? Many people have tried to kill Fidel Castro during the past 60 years, but that [man] is still there."
Mr Guillen has apologized for his remarks and indicated he had a problem expressing himself in English.
History of harassment
Many find the suspension to be insufficient punishment, including dozens of Cuban Americans who demonstrated in Miami demanding he be expelled from the team.
Others have warned he has alienated the team's fan base - Miami's baseball-mad Cuban Americans and exiles.
In the past, other Cuban Americans have complained of harassment after calling for better relations with the Cuban government and Cuban society. Businessmen and artists suffered boycotts.
Last August, Cuban exile groups asked for the suspension of a concert by Cuban singer Pablo Milanes, perceived by many in Miami as a propagandist of the Castro revolution.
Ultimately, thousands of fans attended the show. Outside, several dozen demonstrated against the event.
The concert promoter, Hugo Cancio, complained to BBC Mundo of public belligerence in Miami towards people who do not express staunch anti-Castro opinions.
"It is embarrassing that there is not respect," he says. "Whether we agree or disagree with Ozzie Guillen, his opinion should be respected."
Mr Cancio says passions have cooled in recent years: in the 1990s, he says, he received death threats for promoting concerts in Florida of Cuban musicians.
'Weakened hotheads'
The animosity has lead to violence. In 1996, a concert by popular Cuban singer Rosita Fornes was cancelled after someone threw a firebomb through the window of a restaurant where she was scheduled to perform.
"Fortunately, these hotheads have weakened," Mr Cancio said. "Today they represent an insignificant faction of hysterical voices that resist democratisation and reconciliation among Cubans. They are the last of the Mohicans".
The row over Mr Guillen's comments comes as the US has begun slowly to ease travel restrictions and the trade embargo against Cuba, which lies just 90 miles (145km) off the coast of Florida.
The controversial penalty has occurred at a time when the Miami Marlins just opened a new stadium within the heart of Miami's Cuban community, the Little Havana neighbourhood.
Radio presenter Ninoska Perez, from Radio Mambi, says the Marlins have a public relations problem.
"The penalty against Ozzie Guillen has nothing to do with intolerance," she says. "As a business, [the Marlins team] depends on an audience that was offended by the statements of the manager and eventually the popularity of the team depends on that support."
Omar Lopez, a spokesman for one of the largest exile organizations, the Cuban American National Foundation, believes that the statement of the Miami Marlins manager is offensive but he approves that he has apologised.
"As it has happened in the past, the incident is being used to demonise the political culture of Miami," says Mr Lopez.
"But in Miami there is freedom to express political opinions - unlike in Havana."