Clinton 'hearts' Texts from Hillary spoof site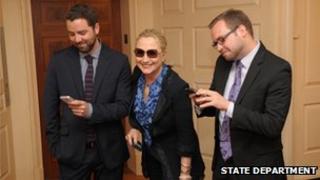 The US Secretary of State Hillary Clinton has embraced a new website of parodies of her sending text messages.
Since launching last week, the Texts from Hillary site has become hugely popular in American political circles.
It is based around a photo of her in dark glasses on a military jet, sending jokey text messages to celebrities and politicians.
She invited the two creators to the state department and submitted her own picture captions.
The site shows Mrs Clinton sending witty one-line responses to her husband, to President Barack Obama, to former Republican vice-presidential hopeful Sarah Palin and others.
In one picture , a lounging Barack Obama asks her what she is up to in a text. "Running the world", a stern-faced Secretary Clinton responds.
Creators Adam Smith and Stacy Lambe, two Washington-based communications advisers, went to the state department on Tuesday after Mrs Clinton's staff contacted them to say she found the site hilarious.
"We thought it'd be a funny joke for the two of us. When we heard from Secretary Clinton's staff yesterday, we were both shocked," said Mr Smith.
The secretary of state met them personally and signed a copy of her own Texts from Hillary submission with "Thanks for the many LOLZ Hillary 'Hillz'".