Alaska coast guard seek Kodiak Island gunman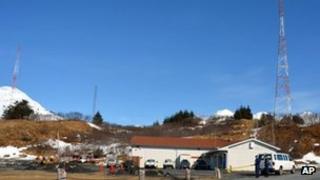 Police are searching for a suspect after two people were found dead at a US Coast Guard base in Alaska, in what officials say could be a double murder.
The victims, found shot dead at their work areas, were thought to have died before 08:00 (16:00 GMT) on Thursday.
About 60 other coast guard and civilian employees at the Kodiak Island station had all been accounted for.
The names of the victims would be released after their families had been notified, the coast guard said.
The US Coast Guard commander at the Kodiak Island said he was not aware of any threats or problems at the base. The station was fitted with security cameras, but it was not known whether they captured any evidence, he said.
Security measures were taken at the base and the nearby school in the aftermath of the discovery, and residents of the island, home to 6,300 people, were told to remain vigilant.
"It is possible that the suspect remains at large," Captain Jesse Moore said.
"Since we don't have all the details, we strongly advise all Kodiak residents to remain vigilant and to report any suspicious activity to local law enforcement officials."
The captain said the unit was "deeply saddened" to have lost two shipmates.
"This is a rare occurrence and we are going to do everything possible to ensure we find out exactly what happened," he said.
Agents from the FBI have been sent to Kodiak from the city of Anchorage, about 250 miles (400km) away. Kodiak has a population of about 6,300 people.
Almost 11 years ago a deadly shooting involving the coast guard took place on Alaska's remote St Paul Island, about 660 miles west of Kodiak Island.
The gunman killed a coast guard member who, he believed, was having an affair with his estranged wife.