Air Canada flights grounded as pilots 'stage sick-out'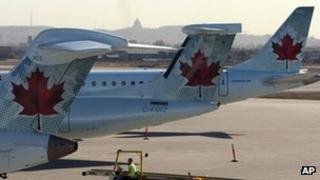 Air Canada has cancelled dozens of flights as pilots call in sick in an apparent protest over a labour row.
An intervention in the dispute last month from Canada's government, that in effect banned any work stoppage, angered a number of employees.
As of Friday morning, at least 30 flights had been cancelled across major airports in Canada, mostly in Toronto, reported CBC News.
The Air Canada Pilots Association urged its union members to report to work.
Air Canada spokesman Peter Fitzpatrick told CBC News a higher number of pilots than average were calling in sick.
But overall, he said, it was a "small group that has decided to engage in this illegal activity".
The airline runs an average of 1,500 flights a day.
The industrial dispute is one of several Air Canada has had in recent months.
A wildcat strike by baggage handlers and ground staff on 23 March led to delays and cancellations.
Air Canada Pilots Association official Captain Jean-Marc Belanger wrote to pilots on Thursday calling on them to report to work, regardless of the current dispute.
Capt Belanger said healthy pilots calling in sick could face fines under the recently passed Protecting Air Service Act , which forbids unions to strike if they are in arbitration.
In March, Labour Minister Lisa Raitt intervened in the contract talks, referring the company and union to the Canada Industrial Relations Board.
The union is beginning to challenge the law under the Canadian Charter of Rights and Freedoms.
Capt Belanger said in his letter to pilots: "We are, like you, incredibly frustrated by management's refusal to negotiate with us and by the collusion with the federal government forcing us into a process that we are actively contesting."
Capt Belanger and another union official have been accused by Air Canada of making reckless comments regarding safety after a maintenance provider for the airline went bust in March.
The two men say they have been threatened with firing.