Tulsa 'shooters' charged with hate crimes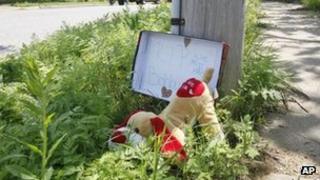 Two men accused of shooting five black people, three fatally, in the Oklahoma city of Tulsa have been charged with murder and hate crimes.
Jake England, 19, and Alvin Watts, 32, were officially charged with three counts of first-degree murder as well as malicious harassment based on race.
Both men have confessed to the series of shootings on 6 April, according to a police affidavit.
They were arrested at home near Tulsa after a tip-off.
"Filing charges is the first step to obtain justice for the victims and their families," Tulsa County attorney Doug Drummond said in a statement.
"This is a tragic and senseless crime. Our office is committed to holding those responsible accountable for their actions."
The two were also charged with two counts of shooting with intent to kill.
Their next court date is expected on 16 April.
The three dead have been identified as Dannaer Fields, 49, Bobby Clark, 54, and William Allen, 31.
Two men wounded in the attacks, David Hall, 46, and Deon Tucker, 44, have since been released from hospital.
The affidavit, quoted by the Associated Press news agency, does not make clear which man shot which victim, but suggests that Mr England admitted to shooting three people and Mr Watts confessed to shooting two.
None of the victims are thought to have known each other and all of them were out walking when they were shot within a three-mile (4.8-km) radius early on 6 April.
Police said earlier this week that Mr England may have had an "axe to grind" because of his father's death two years ago.
Carl England was shot in the chest in April 2010 during a fight with Pernell Demond Jefferson, a black man who allegedly tried to break into the apartment of Mr England's daughter's boyfriend.