Barack Obama campaign raises $53m in March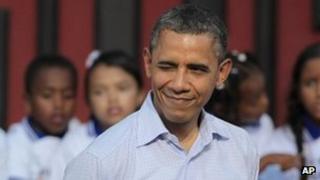 US President Barack Obama raised a total of $53m (£33m) in March while his Republican rivals continued their primary-season battles.
Mr Obama's war chest will help his re-election campaign, as well as fund Democratic party efforts to re-elect members of Congress in November.
In total the president has raised some $350m so far in his re-election bid.
His presumed rival, Republican Mitt Romney, is only now beginning his general election fundraising efforts.
He is being helped by the Republican National Committee (RNC), which raised $13.7m in March - reported to be its best month of the campaign so far.
The RNC, which like its Democratic counterpart the DNC raises funds for congressional and state races as well as the presidential campaign, is reported to have $32.7m in cash.
'Dig deeper'
Mr Romney has proved a prolific fundraiser throughout the primary season, easily outspending his rivals during the state-by-state contests.
But his funding for the general presidential election is limited so far, and the tussle with Rick Santorum in recent months saw the former Massachusetts governor's campaign spend more than they had planned in the primary season.
Mr Romney's team will release its fundraising totals for March later this week.
The presidential campaign is expected to be marked by high spending by so-called super-PACs - independent fundraising committees not constrained by limits on donations and not obliged to reveal the names of their donors.
A number of Republican-supporting super-PACs are known to have large amounts of cash in hand ready for use in the general election campaign and in tight congressional races.
Democratic super-PACs are less active, although they have been given the president's blessing to fundraise on behalf of Democratic candidates.
Mr Obama has already signalled he will not accept public funding for his election bid, freeing him from limits on how much he can raise.
"We're all going to have to dig even deeper, work even harder, move even faster," campaign manager Jim Messina said on Monday.