Pulitzer win for 24-year-old reporter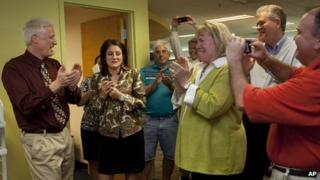 A young reporter who led coverage of a sexual abuse scandal at a US college is among the winners of the top prize in US journalism, the Pulitzers.
The award for local reporting went to the Patriot-News in Harrisburg, Pennsylvania, and its 24-year-old police and courts reporter Sara Ganim.
The Associated Press won an award for its series on the profiling of Muslims by the New York Police Department.
But for the first time since 1977 there was no prize for fiction.
The Pulitzer panel praised the Patriot-News and Ganim for "courageously revealing" reporting on the sexual abuse allegations against former Penn State coach Jerry Sandusky.
Ganim broke news about the investigation into Mr Sandusky - who denies the claims - on a story which made national headlines.
Meanwhile, the Huffington Post, an online news site, won its first Pulitzer, for national reporting on US veterans.
US political paper Politico also won its first Pulitzer, for editorial cartooning.
The awards are currently given in 21 categories, including non-fiction, poetry and drama.
Manning Marable was awarded the Pulitzer posthumously in the history category for his biography of Malcolm X.
A photo of a young girl crying in the wake of a suicide attack at a Shia shrine in Kabul won Massoud Hossaini of AFP news agency the award for best breaking news photography.